The Retirement Group educates employees who are transitioning or retiring from Fortune 500 companies through monthly newsletters and seminars given throughout the United States.
Our knowledgeable representatives will educate you through workshops conveniently conducted near you. Please attend a free workshop, read the Asset Allocation Questionnaire, call us at 800-900-5867, email us at info@theretirementgroup.com, or visit the contact page on this website to learn more. Visit our blog for more Client Articles!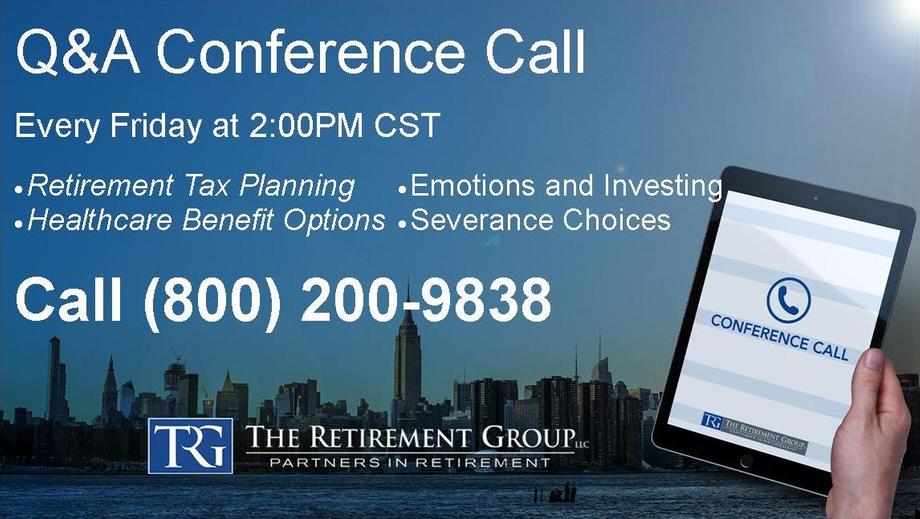 We are a group of financial professionals who focus entirely on retirement planning and the design of retirement portfolios for the transitioning corporate employee.
Please call 800-900-5867 to speak with a Customer Service representative who will assist with the login process to view your Savings Plan or Pension Plan online. Although the Retirement Group is not affiliated with Netbenefits, 401k.com, Your Benefits Resources, eworkplace, Hewitt Resources, ING retirement Plans, or ING 401k plans we do assist qualified employees in navigating these sites. We are an independent Financial Advisor Firm that focuses on retirement planning.
* The Retirement Group® is not affiliated or endorsed by any company or employer which includes, but is not limited to *AT&T, *Apache Corporation, *Altria, *Avaya, *Baker Hughes, *Bayer, *Boeing, *BP, *Bristol Myers Squibb, *Chevron, *Concho Resources, *Hughes, *fidelity.com, *Wyeth, *Northrop Grumman, *Merck, *Raytheon, *Coca-Cola ,*Qwest, *Pfizer, *Caterpillar, *ConocoPhillips, *ExxonMobil, *Sempra Energy, *San Diego Gas & Electric Company, *Southern California Gas Company, *Ameren, *Anheuser-Busch, *APL, *Bank of America, *Blackhawk Networks, *Caterpillar, *CenturyLink, *Chevron, *Citigroup, *Clorox, *Coca-Cola, *Colgate, *Con Edison, *ConocoPhillips, *Dexone, *ExxonMobil, *GlaxoSmithKline, *Halliburton, Hewlett Packard *Home Depot, *Honeywell, *HP, *IBD, Johnson Controls *Kaiser Permanente, *Kimberly-Clark, *Kinder Morgan, *Lockheed Martin, McCormick Spice, *Merck, *Monsanto, *Northrop Grumman, *Occidental Petroleum, *Pepsi, *Pfizer, *PG&E, *Phillips 66* *Phillip Morris, *Qwest, *Raytheon, *Royal Dutch Shell, *Safeway, *San Diego Gas & Electric, *Schlumberger, *Scotts Miracle Gro, *Sempra, *Siemens, *SoCal Edison, *Sony, *Southern California Edison, *Teradata, *Toyota Motor Corporation, *Tropicana, *United Parcel Service, *Verizon, *We Energies Group, *Wisconsin Energy, *Wyeth and *Verizon