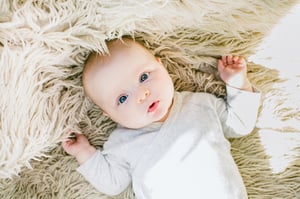 Children are a special blessing and their arrival brings boundless love and joy into our lives that you can't put a price on. But adding a child to the household impacts the family budget--and women especially—in very measurable ways. Whether this is your first child or your fourth, here are some financial matters to think about and plan for before and after baby arrives.
Check your health insurance
If you and your spouse are both eligible for employer-sponsored health insurance, compare plans to see which spouse's policy offers the best coverage so you'll be prepared during the open enrollment period. Along with comparing deductibles, co-payments, and premiums, look at coverage for prenatal visits, hospital and midwife services, infertility treatments, and dependent care.
Once you've chosen a health plan, read the policy carefully to see what maternity coverage is provided. Also find out if the policy covers complications from a premature birth, including a stay in a neonatal unit, and whether a separate deductible applies if your baby is hospitalized beyond a certain period of time. Typically, your baby will be covered under your policy from the time of birth, though you'll have to contact your insurer to officially add your child to the policy. If you're adopting a child, make sure you know when your policy will begin coverage.
Budget for baby
Some expenses typically increase when you add a baby to the household, including:
Groceries, including diapers, formula (you may use some even if you're nursing), and baby food
Clothing and baby equipment
Transportation costs--Will you need to buy a larger, more practical, or second car?
Housing costs--Will you need to move to a larger apartment or house, or will you simply need to push a bureau a few feet to make room for a crib?
If a housing move is in the cards but you aren't able to do it before baby arrives, don't worry. Plan as best you can ahead of time--request a free copy of your credit report and clear up any issues, compare mortgage rates, request a preapproval, look at real estate listings to get an idea of the inventory available in your price range, get estimates to remodel your existing space (if that's a possibility), and so on.
Thinking about the ways a child can impact the family budget often leads to a larger question.
Will you go back to work?
The decision to go back to work after having a baby is a personal one, and often depends on many factors. Maybe you want to work because you enjoy your job, or maybe you have no choice but to work because it's the only way you can survive financially. Or perhaps you want to stay home and you've spent the past few years shoring up your finances. Whatever you decide, know that your decision isn't etched in stone. Women, much more so than men, tend to move in and out of the workforce to accommodate children. So whatever you do this year might not be what you're doing two, five, or ten years from now.
If you don't plan to return to work:
Find out if your employer will pay you for any unused vacation/sick time.
Be up-front about your plans and remain on good terms with your supervisor and colleagues in the event you change your mind about working or need a reference in the future.
Pay down debt where possible.
Try to live on one paycheck before you leave work, which can help you cut non-essential spending.
If you have federal student loans, a deferment or forbearance request can give you a six-month reprieve from paying them.
Continue to save for retirement--you can establish and contribute to your own IRA (traditional or Roth) based on your spouse's earnings under the spousal IRA rules
This material was prepared by Broadridge Investor Communication Solutions, Inc., and does not necessarily represent the views of The Retirement Group or FSC Financial Corp. This information should not be construed as investment advice. Neither the named Representatives nor Broker/Dealer gives tax or legal advice. All information is believed to be from reliable sources; however, we make no representation as to its completeness or accuracy. The publisher is not engaged in rendering legal, accounting or other professional services. If other expert assistance is needed, the reader is advised to engage the services of a competent professional. Please consult your Financial Advisor for further information or call 800-900-5867.
The Retirement Group is not affiliated with nor endorsed by fidelity.com, netbenefits.fidelity.com, hewitt.com, resources.hewitt.com, access.att.com, ING Retirement, AT&T, Qwest, Chevron, Hughes, Northrop Grumman, Raytheon, ExxonMobil, Glaxosmithkline, Merck, Pfizer, Verizon, Bank of America, Alcatel-Lucent or by your employer. We are an independent financial advisory group that specializes in transition planning and lump sum distribution. Please call our office at 800-900-5867 if you have additional questions or need help in the retirement planning process.
.The Retirement Group is a Registered Investment Advisor not
affiliated with FSC Securities and may be reached at www.theretirementgroup.com.
                        <figure>

                                        <a href="https://theretirementgroup.blog/contact/" data-elementor-open-lightbox="">

                        <img src="https://theretirementgroup.blog/wp-content/uploads/2019/01/ad.png" title="" alt="" />                             </a>

                                        <figcaption>paid advertisement</figcaption>

                                    </figure>

                        <figure>

                                        <a href="https://theretirementgroup.blog/contact/" data-elementor-open-lightbox="">

                        <img width="513" height="210" src="https://theretirementgroup.blog/wp-content/uploads/2019/01/Capture.png" alt="" srcset="https://i1.wp.com/theretirementgroup.blog/wp-content/uploads/2019/01/Capture.png?w=513&amp;ssl=1 513w, https://i1.wp.com/theretirementgroup.blog/wp-content/uploads/2019/01/Capture.png?resize=300%2C123&amp;ssl=1 300w" sizes="(max-width: 513px) 100vw, 513px" />                               </a>

                                        <figcaption>Sponsored Ad</figcaption>

                                    </figure>


Tags: Financial Planning, Investing, Lump Sum