As countries across the world work to handle the spread and impact of the novel coronavirus, The Retirement Group is addressing the evolving situation while remaining vigilant about the likelihood of ongoing disruptions. Our team stands ready to support you and your family. We have comprehensive plans and dedicated teams to help us address a range of issues, from cyber incidents and natural disasters, to the current pandemic. Read more about how we are handling the COVID-19 crisis here. Know that we will be doing everything we can to minimize disruptions and delays, and that we are committed to keeping you informed. Below is an executive summary of the latest updates and time-sensitive events that could affect you.

Attention required

The Retirement Group temporarily closes public access to offices effective March 20

Starting Friday, March 20, our branch staff and advisor service teams will continue to work together and support client needs virtually, but we will be temporarily closing public access and walk-in traffic to all U.S. branches. Here are ways to work with us while our office is closed.

Market volatility and COVID-19 outbreak impacting service levels

We're experiencing exceptionally high call levels due to the current environment. At times, despite our very best efforts, you may experience longer hold times than normal, and your calls and requests may be supported by service professionals whom you haven't worked with before.We have included direct dial numbers for advisors below. You can always sign up for our newsletter, register for a webinar, or visit our blog for any updates. As they are often the quickest way to get information or submit your requests.

Act now

As the public's demand for information about the pandemic remains high, criminals are seeking to take advantage, turning common information searches into information theft. Learn more about the latest fraud schemes and make sure you are implementing any additional precautions to protect you and your family.

Asset safety and market volatility resources for you and your family

The Retirement Group is committed to staying financially strong, and we have confidence in our ongoing financial health. We know the current environment and market volatility can lead to anxiety for some investors, and prompt questions about the safety of their accounts. To help in your conversations, here is how The Retirement Group protects you account.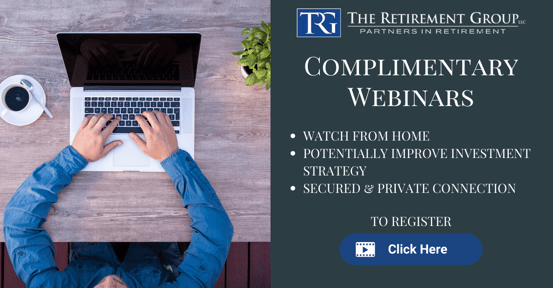 Tags: Financial Planning, Lump Sum, Pension, Retirement Planning