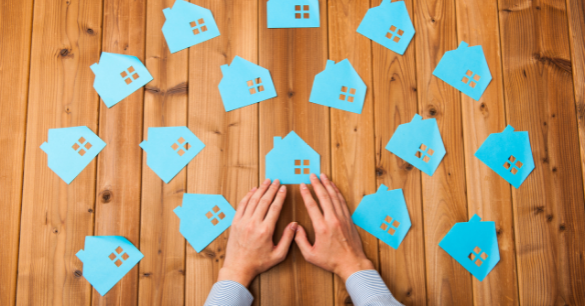 By one estimate, U.S. landlords were owed about $57 billion in unpaid back rent at the beginning of 2021. The average household that fell behind owed about four months of rent, or $5,600. Altogether, more than 10 million U.S. families were facing the possibility of eviction.[1]
Many landlords, including those who depend on rent payments for retirement income, have experienced financial difficulties in lockstep with their heavily impacted tenants. Although multi-family apartment complexes are often owned by large corporations, about 90% of single-family rentals are owned by small investors who are facing the risk of mortgage default, bankruptcy, or forced property sales.[2]

Fortunately, the March 2021 federal stimulus bill added almost $22 billion in housing assistance to the $25 billion previously allocated by Congress.[3] In many cases, payments are being sent directly to landlords through new or existing local programs on behalf of renters who meet certain eligibility requirements.

Program parameters
Under the Emergency Rental Assistance Program (ERAP), the U.S. Treasury has distributed grants to states, cities, and counties with populations greater than 200,000 to be used for back-due rent and utility bills accrued after March 13, 2020. Eligibility is limited to households that earn less than 80% of the area's median income, as defined by the Department of Housing and Urban Development.

Applicants must document their incomes, prove they qualified for unemployment benefits or suffered financial hardship due to COVID-19 that impacted their ability to pay rent, and submit unpaid bills or notices that demonstrate they are at risk of becoming homeless.

What can landlords do?
Tenants and landlords generally apply for the funds together, but the application process and guidelines differ from program to program. In some states, landlords may be asked to forgive a percentage of the rental arrears in exchange for larger rent payments.

If you are a landlord, you might reach out to tenants who are behind on rent and encourage them to explore any potential opportunities for financial assistance. Check the websites of your state and local housing agencies to find the status and requirements of various housing programs and how to apply. Of course, many higher-earning households won't be eligible for help, and in areas with lots of lower-income renters, local programs could run dry quickly.

Evicting tenants can be a painful and expensive process. If you have tenants who fell behind but are trying to catch up, it may be advantageous to work out a payment program instead to help keep them in place.

1) Moody's Analytics, 2021
2) RealtyTrac, 2021
3) The Wall Street Journal, March 11, 2021
This material was prepared by Broadridge Investor Communication Solutions, Inc., and does not necessarily represent the views of The Retirement Group or FSC Financial Corp. This information should not be construed as investment advice. Neither the named Representatives nor Broker/Dealer gives tax or legal advice. All information is believed to be from reliable sources; however, we make no representation as to its completeness or accuracy. The publisher is not engaged in rendering legal, accounting or other professional services. If other expert assistance is needed, the reader is advised to engage the services of a competent professional. Please consult your Financial Advisor for further information or call 800-900-5867.

The Retirement Group is not affiliated with nor endorsed by fidelity.com, netbenefits.fidelity.com, hewitt.com, resources.hewitt.com, access.att.com, ING Retirement, AT&T, Qwest, Chevron, Hughes, Northrop Grumman, Raytheon, ExxonMobil, Glaxosmithkline, Merck, Pfizer, Verizon, Bank of America, Alcatel-Lucent or by your employer. We are an independent financial advisory group that focuses on transition planning and lump sum distribution. Please call our office at 800-900-5867 if you have additional questions or need help in the retirement planning process.

The Retirement Group is a Registered Investment Advisor not affiliated with FSC Securities and may be reached at www.theretirementgroup.com.