Preparing for college while still in high school can be difficult for even the most academically minded student. These days, you need to excel in the classroom, make sure you're involved in extracurricular activities, and enroll in challenging classes to impress a college admissions board. On top of that, the financial cost of higher education may add to what is already a stressful time in an ambitious student's life. Luckily, with a little preparation, you may be able to make applying for financial aid painless and stress free. Read on to learn more.

Standardized testing matters

Every October, third-year high school students can take the Preliminary SAT (PSAT), also known as the National Merit Scholarship Qualifying Test (NMSQT). Even if they won't need to take the SAT for college, taking the PSAT/NMSQT is required for many scholarships, such as the National Merit Scholarship.(1)

Looking forward to the spring of their junior year, college-bound students will want to take the SAT or ACT. An early test date may allow time for repeating the test their senior year, if necessary. No matter how many times your child takes the test, most colleges will only look at the best score.

A Fresh FAFSA

The Free Application for Federal Student Aid (FAFSA) is the single-most important form you need in order to secure financial aid from the federal government. Each year, roughly 13 million students file their FAFSA and receive a combined total of more than $120 billion in grants, work study, and low-interest loans from the U.S. Department of Education.(2)

Recent changes to the FAFSA.gov website have streamlined the application process, but some preparation before you sit down to submit your FAFSA can make it even easier. Make sure you gather all the information you can regarding your and your family's finances. Pausing now to make sure those documents are close at hand can save both time and frustration later on.

Don't forget about "gift aid"

Grants and scholarships are often called "gift aid" because they are free money – financial aid that doesn't have to be repaid. College-bound students can learn about grants and scholarships in several ways, but the most-effective strategy starts with contacting the financial aid office at the college or university you plan to attend. Doing your own research can also be an effective strategy, but be careful: scholarship and grant scams are plentiful.(3)

1. Federalreserve, 2018
2. Thecollegeboardblog.com, 2019
3. Studentaid.ed.gov, 2019
Securities offered through FSC Securities Corporation, member FINRA/SIPC and investment advisory services offered through The Retirement Group, LLC, a registered investment advisor not affiliated with FSC Securities Corporation. Although FSC is a signatory to the Broker Protocol, TRG is not. The removal of PII from FSC under the Broker Protocol is a violation of the Privacy Policy. Representatives are securities registered and are able to service clients in the following states: ALABAMA, ARIZONA, ARKANSAS, CALIFORNIA, COLORADO, FLORIDA, GEORGIA, ILLINOIS, INDIANA, KANSAS, MASSACHUSETTS, MICHIGAN, MISSISSIPPI, MISSOURI, NEVADA, NEW HAMPSHIRE, NEW JERSEY, NEW YORK, NORTH CAROLINA, OHIO, OKLAHOMA, OREGON, PENNSYLVANIA, SOUTH CAROLINA, TEXAS, TENNESSEE, WASHINGTON, WISCONSIN.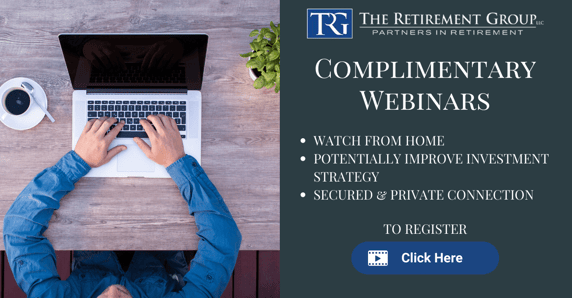 Tags: Financial Planning, Lump Sum, Pension, Retirement Planning