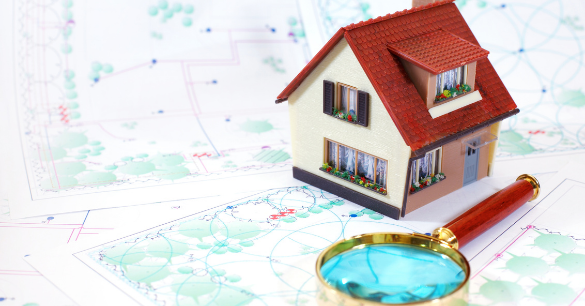 Housing Demand
Housing Demand can be best explained with the two phrases "4 + 4" and "big is back". Sellers are seeing 4 offers in 4 days. According to real-estate provider Showing Time, there were 10 home showings on average per active listing in 129 markets in March by high credit score borrowers, with sizable down payments. This is the exact opposite of the subprime housing boom. Buyers are leaving the cities and going big with more square footage. According to the 2021 Coldwell Banker Survey, more square footage was the number one amenity buyers wanted in 2021. Demand for homes over 5,000 square feet jumped 17% nationally.
One of the largest surges is in San Diego, CA where demand for homes over $5 million jumped an amazing 114.9% (attached) and days on market for the top 5% decreased 26%, from 50 days to 37 days as price per square foot went from $637 per square foot to $697 per square foot. The next large wave of buyers are now aging into their prime buying years, followed by a smaller wave (Figure 2b). The current demand is from the Baby Boomers' adult children as some are just moving out of their parents' homes (finally at 30!). This group now have savings, and their family is contributing to the down payment. Additionally, they and are in the group that has the lowest debt to income in 40 years (Figure 2).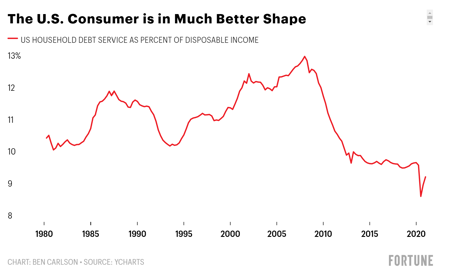 Figure 2a
The saving rate was at 13% of their income in 2020 compared to just 3% in 2007. Now this could be a problem if the US consumer does not spend as we saw in Japan in the 1980's but that has never been the case as the US consumer loves to spend whenever they can. The increase in the amount of money in US savings accounts swelled to $2 trillion. This is in addition to the $2 trillion coming into the economy from the recent stimulus package. Even today, during this housing shortage, Housing Formations of 1.3m lag New Home starts of 1.1m over the last year (Figure 2c). Formations are expected to average 1.3m and increase from 7.3m in the last decade to 8.5m in 2020-2030, fueling future demand. At the current rate, we now need 3-4 years of accelerated new home starts just to catch up with the group of aging Millennials increasing new home formations (Blue Line Chart 2b & 2c).
Figure 2b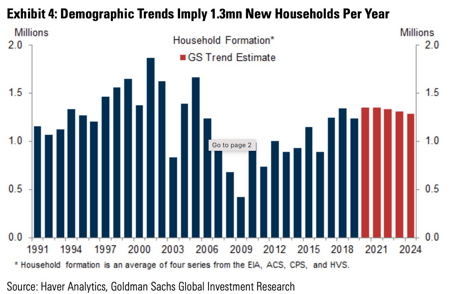 Figure 2c
Large banks have additional capital to lend as they reverse the billions in loan loss reserves for a housing crisis that did not happen. Also, with mortgage rates rising, there is a better financial incentive to lend as loans are more profitable as rates rise (increased NIM). As rates rise and as buyers overcome lending standards many cash home buyers are getting funds from securitized non real estate loans (secured by cash, stocks and bonds) with an interest rate of 2.5% to buy homes for cash. While there is concern that rising fixed 30 year rates will slow down the buyer, there is relief with the 5/1 adjustable loans. You can still get a 5/1 which is fixed for 5 years at 3%, which will still make buying affordable even if 30 year fixed rates go up to 5%. Further expansion in more available financing is slowly becoming more flexible. For example, there is now more financing for buyers with credit scores below 700, more financing based on assets rather than income, and underwriters allow house flipper financing.
Click here for a detailed explanation of the other market drivers which indicate a housing crash is unlikely: https://blog.theretirementgroup.com/blog/retiring-worried-housing-crash
Sources
This is Not the 2007 Housing Bubble" The Retirement Group, 25 April. 2021, https://theretirementgroup.com/
Ackerman, Andrew. "Consumer Agency Seeks to Restrict Foreclosures Through 2021 - WSJ." WSJ, The Wall Street Journal, 5 Apr. 2021, https://www.wsj.com/articles/consumer-agency-seeks-to-restrict-foreclosures-through-2021-11617651357?mod=article_inline.(Ackerman)
New Home LSI: New Home Replacement Lots Are Getting Harder to Find | Zonda." Zonda, https://www.facebook.com/meyersresearchllc/, 17 Feb. 2021, https://zondahome.com/new-home-lsi-new-home-replacement-lots-are-getting-harder-to-find/
"February 2021 Report." Black Knight, Mortgage Monitor, Feb. 2021, https://www.blackknightinc.com/wp-content/uploads/2021/04/BKI_MM_Feb2021_Report.pdf.
Calculated Risk: NAR: Existing-Home Sales Increased to 6.69 Million in January." Calculated Risk, 19 Feb. 2021, https://www.calculatedriskblog.com/2021/02/nar-existing-home-sales-increased-to.html.
Balint, Nadia. "Single-Family Rentals Increased Faster than Apartments in 22 of 30 Big Cities, Led by Phoenix - RENTCafé Rental Blog." RENTCafé Rental Blog, 12 Apr. 2018, https://www.rentcafe.com/blog/rental-market/real-estate-news/single-family-homes-rent-increased-faster-than-apartments/.
Dezember, Ryan. "If You Sell a House These Days, the Buyer Might Be a Pension Fund - WSJ." WSJ, The Wall Street Journal, 4 Apr. 2021, https://www.wsj.com/articles/if-you-sell-a-house-these-days-the-buyer-might-be-a-pension-fund-11617544801?mod=article_inline.
Mitchell, Olivia S., et al. Financial Decision Making and Retirement Security in an Aging World. Oxford University Press, 2017.
San Diego Real Estate Statistics | SDAR." San Diego Association of REALTORS® | SDAR, https://www.sdar.com/fast-stats.html. Accessed 26 Apr. 2021.
Son, Hugh. "Jamie Dimon Says U.S. Consumers Are 'coiled, Ready to Go' with $2 Trillion More in Checking Accounts." CNBC, CNBC, 14 Apr. 2021,https://www.cnbc.com/2021/04/14/jamie-dimon-says-us-consumers-are-coiled-ready-to-go-with-2-trillion-more-in-checking-accounts.html.
March Data: Rents Grow Faster for the First Time in Eight Months." Realtor.Com Economic Research, 13 Apr. 2021, https://www.realtor.com/research/march-2021-rent/
ATTOM Data Solutions Releases Best Counties for Buying Single Family Rentals in 2020 | ATTOM." ATTOM, https://www.facebook.com/attomdata, 12 Mar. 2020, https://www.attomdata.com/news/market-trends/single-family-rental/attom-data-solutions-q1-2020-single-family-rental-market-report/.
Friedman, Nicole, and Ben Eisen. "Buying a Home in the Pandemic? Family Members Team Up on Bids - WSJ." WSJ, The Wall Street Journal, 20 Mar. 2021, https://www.wsj.com/articles/buying-a-home-in-the-pandemic-family-members-team-up-on-bids-11616232600.
McLaughlin, Katy. "Covid-19 Is Giving the Multigenerational Home Business a Big Boost - WSJ." WSJ, The Wall Street Journal, 12 Nov. 2020, https://www.wsj.com/articles/multigenerational-living-covid-11605196694?mod=article_inline.
Coldwell Banker Global Luxury Report : 2021 Global Luxury Marketing Insights by The Report Group - Issuu." Accessed 26 Apr. 2021.
Disclosure: Securities offered through FSC Securities Corporation (FSC) member FINRA/SIPC. Investment advisory services offered through The Retirement Group, LLC. FSC is separately owned and other entities and/or marketing names, products or services referenced here are independent of FSC. Office of Supervisory Jurisdiction: 5414 Oberlin Dr #220, San Diego CA 92121