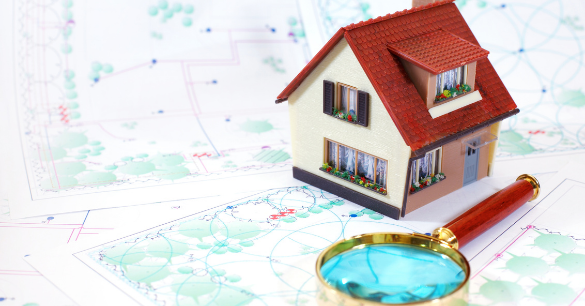 Housing Demand
Housing Demand can be best explained with the two phrases "4 + 4" and "Big is Back." Sellers are seeing 4 offers in 4 days. According to the California Association of Realtors, homes in California are on the market for about 7 days before starting the closing process, with 70% of homes selling above the listing price. This is the exact opposite of the subprime housing boom. Buyers are leaving the cities and going big with more square footage. According to the 2021 Coldwell Banker Survey, more square footage was the number one amenity buyers wanted in 2021. Purchases of luxury homes in the U.S. surged 88.2% year-over-year in the second quarter, while purchases of the most affordable homes rose by 56.8%. By comparison, purchases of homes in other price tiers increased between 30% and 45%, according to the Ritz Herald.
One of the largest surges in luxury homes is located in San Diego, CA, where demand for homes over $5 million jumped an amazing 140.2% (attached) The next large wave of millennial buyers are now aging into their prime buying years, followed by a smaller wave (Figure 2b). The current demand is from the Baby Boomers' adult children as some are just moving out of their parents' homes (finally at 30!). "Compared to their younger generational peers, they have less student debt and are more likely to own homes and have kids - a sign that many have recovered from the financial fallout," according to Insider. Millennials have comparatively less student loan debt than their younger peers (Figure 2), a factor to the Goldman Sachs Housing Crash Index (See Figure 6). A factor particularly influential on the demand for housing is household formation, of which young adults play a key role. According to the latest data published by the Pew Research Center, a majority of young adults live with their parents now, for the first time since the last depression. Current population survey data by the Census Bureau indicates that the number household formations declined by over 100,000 thousand in 2020, "If all the missing households from 2020 were to be formed in 2021, we could expect about 2.3 million additional households formed this year."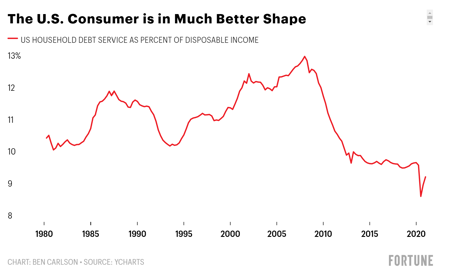 Figure 2a
The saving rate was at 9.4% through 2021 compared to just 3% in 2007. Now this could be a problem if the US consumer does not spend, as we saw in Japan in the 1980's; But that has never been the case, as the US consumer generally spends consistently. "The number of households with the accounts rose to 52.1% in 2019, from 47.1% in 2004, while the median balance increased to $5,000 from $3,000 during the period," stated Forbes in regard to savings accounts nationwide. Even today, during this housing shortage, Housing Formations of 1.3m lag New Home starts of 1.1m over the last year (Figure 2c). Formations are expected to average 1.3m and increase from 7.3m in the last decade to 8.5m in 2020-2030, fueling future demand. At the current rate, we now need 3-4 years of accelerated new home starts just to catch up with the group of aging Millennials increasing new home formations (Blue Line Chart 2b & 2c).
Figure 2b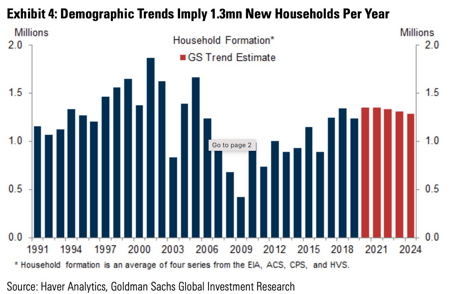 Figure 2c
Large banks have additional capital to lend as they reverse the billions in loan loss reserves for a housing crisis that did not happen. Also, with mortgage rates rising, there is a better financial incentive to lend, as loans are more profitable as rates rise (increased NIM). As rates rise and as buyers overcome lending standards, many cash home buyers are getting funds from securitized non real estate loans (secured by cash, stocks and bonds) with an interest rate of 2.5% to buy homes for cash. While there is concern that rising fixed 30-year rates will slow down the buyer, there is relief with the 5/1 adjustable loans. You can still get a 5/1 which is fixed for 5 years at 3%, which will still make buying affordable even if 30 year fixed rates go up to 5%. Further expansion in more available financing is slowly becoming more flexible. For example, there is now more financing for buyers with credit scores below 700, more financing based on assets rather than income, and underwriters allow house flipper financing.
Click here for a detailed explanation of the other market drivers which indicate a housing crash is unlikely: https://blog.theretirementgroup.com/blog/retiring-worried-housing-crash
Sources
This is Not the 2007 Housing Bubble" The Retirement Group, 25 April. 2021, https://theretirementgroup.com/
https://www.noradarealestate.com/blog/california-housing-market/
https://issuu.com/thereportgroup/docs/coldwell_banker_global_luxury_report_2021?fr=sMmQ4YjIyMzM0
https://ritzherald.com/u-s-luxury-home-prices-soared-26-year-over-year-in-q2-2021/
http://sdar.stats.10kresearch.com/docs/hso/x/report?src=page
https://www.businessinsider.com/typical-40-year-old-oldest-millennials-debt-net-worth-earnings-2021-7#the-typical-40-year-old-millennial-was-one-of-those-hardest-hit-by-the-great-recession-1
https://www.gsam.com/content/gsam/us/en/individual/market-insights/market-strategy/global-market-monitor/2021/market_monitor_072321.html
https://www.pewresearch.org/fact-tank/2020/09/04/a-majority-of-young-adults-in-the-u-s-live-with-their-parents-for-the-first-time-since-the-great-depression/
https://tradingeconomics.com/united-states/personal-savings
https://www.forbes.com/sites/tedknutson/2021/08/16/savings-accounts-popularity-rises-despite-negligible-interest-rate/?sh=440897666831
https://www.urban.org/sites/default/files/publication/103501/the-future-of-headship-and-homeownership.pdf
Disclosure: Securities offered through FSC Securities Corporation (FSC) member FINRA/SIPC. Investment advisory services offered through The Retirement Group, LLC. FSC is separately owned and other entities and/or marketing names, products or services referenced here are independent of FSC. Office of Supervisory Jurisdiction: 5414 Oberlin Dr #220, San Diego CA 92121