Potential liability claims are probably a big concern for you as a car owner. Consider the claims that might be brought against you for bodily injury or property damage (or both) resulting from a car accident. Adequate liability insurance coverage can protect you from the financial burdens associated with such claims.
Why buy liability insurance?
All states have financial responsibility laws that require owners of vehicles to prove they can pay for bodily injury and property damage caused by the use of their automobile. By far, the most common way to comply with financial responsibility laws is to buy an auto insurance policy. The liability limits of the policy must at least equal the minimum limits specified by your state. Even if you can prove financial responsibility in another way (e.g., by posting a bond), you still might have reasons to purchase liability coverage. If you have any valuable assets (e.g., home, car, stock portfolio), you'll want to protect them. If you're sued, and you don't have enough insurance, a large judgment could wipe you out financially. Also, keep in mind that if you're interested in buying excess coverage (an umbrella policy), you'll need a certain amount of primary insurance first under your auto insurance and/or homeowners insurance policies (typically in the $250,000 to $500,000 range).
Who is an insured?
The way in which your policy defines an insured is very important. Anyone who is an insured has some protection under that policy. If you bought the policy and you own the car, you're the named insured. But you're not the only person who may be covered by the policy. There are probably more people insured under your policy than you think (e.g., household/family members). Check out your policy for the complete list.
Is there a limit to liability?
The liability limit is the maximum amount that the insurance company will pay for an insured loss, apart from any supplemental payments. Insurers may use one of two different methods to determine liability policy limits:
Single limit: Your policy states a single dollar amount (e.g., $100,000), and your insurer will pay all covered damages, regardless of damage type or number of parties injured, up to that limit. You'll bear the burden of any amount over that limit.
Split limit: Here, you'll see numbers like 100/300/50. This means that you have $100,000 coverage per injured person, up to a maximum of $300,000 per accident, and $50,000 for any property damaged in that accident. Again, you'll bear the burden of any excess damage.
The method that your insurer uses may depend on state law requirements.
When your insurer won't pay
The exclusions section of your insurance policy specifically sets out the limitations and restrictions on the coverage provided in the policy. Under the liability portion of your policy, coverage is generally excluded in the following situations:
Damage or injury is intentional
There is duplicate coverage (e.g., claims covered by workers' compensation)
Your vehicle is being used as a taxi or in a limousine service (car pool arrangements in which expenses are shared are not excluded)
The car is being used to participate in racing or speed contests on a track
The liability coverage of personal auto policies is quite broad, subject to certain exclusions.
Keep in mind that insurers can only calculate risks on your known vehicles. So, if you own a vehicle that is not listed on your policy, your insurer may deny coverage if you're in an accident while driving it.
Supplementary payments
Your auto insurer will make certain payments above and beyond the policy limits for specific expenses that you incur in connection with an accident. They may include:
Costs of defending lawsuits, including legal fees
Bail bonds
Appeal bonds
Attachment bonds
Interest on any judgments
Expenses incurred by the insured in defending claims, including lost wages
It's important to note that there is supplemental coverage for bonds only if they are required as a result of an accident that caused bodily injury or property damage--not just for tickets or arrests for traffic violations.
Out-of-state coverage
The out-of-state coverage provision indicates how your chosen liability limits will apply if you are involved in an accident that occurs outside of your home state. If the other state has a higher minimum liability limit for nonresidents than the amount you are insured for, your policy may be interpreted as providing that higher minimum limit. However, a conflict between the laws of your state and the state where the accident occurred may ultimately have to be resolved by the courts.
Other insurance
The purpose of the other-insurance provision is to establish the company's responsibilities if the insured has more than one applicable policy or is driving someone else's car. In the first case, each insurance company will pay its proportionate share. In the second case, insurance on the car being driven is tapped before the driver's insurance. The driver's insurance is excess over the policy purchased by the owner of the car.
This material was prepared by Broadridge Investor Communication Solutions, Inc., and does not necessarily represent the views of The Retirement Group or FSC Financial Corp. This information should not be construed as investment advice. Neither the named Representatives nor Broker/Dealer gives tax or legal advice. All information is believed to be from reliable sources; however, we make no representation as to its completeness or accuracy. The publisher is not engaged in rendering legal, accounting or other professional services. If other expert assistance is needed, the reader is advised to engage the services of a competent professional. Please consult your Financial Advisor for further information or call 800-900-5867.

The Retirement Group is not affiliated with nor endorsed by fidelity.com, netbenefits.fidelity.com, hewitt.com, resources.hewitt.com, access.att.com, ING Retirement, AT&T, Qwest, Chevron, Hughes, Northrop Grumman, Raytheon, ExxonMobil, Glaxosmithkline, Merck, Pfizer, Verizon, Bank of America, Alcatel-Lucent or by your employer. We are an independent financial advisory group that specializes in transition planning and lump sum distribution. Please call our office at 800-900-5867 if you have additional questions or need help in the retirement planning process.

The Retirement Group is a Registered Investment Advisor not affiliated with FSC Securities and may be reached at www.theretirementgroup.com.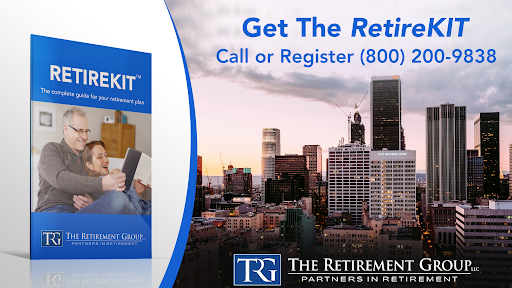 Tags: Financial Planning, Lump Sum, Pension, Retirement Planning