If you're thinking about buying life insurance for your child, consider the decision carefully. The main purpose of life insurance is to replace income lost after someone dies, and there's little doubt that your income could decrease upon your child's death, due to lost time at work or lost productivity. However, you should also consider protecting your child's future by purchasing more life insurance for you and your spouse.
Isn't it smart to buy insurance now, while the rates are low?
While it may be true that life insurance policies for children are inexpensive, the cost alone shouldn't be the only consideration. A more important factor is the need for coverage both now and in the future. You might especially consider purchasing life insurance for your child if he or she is at risk for developing a specific medical condition that runs in your family or has a condition that is likely to worsen over time.
Isn't it smart to buy cash value insurance now, to help save for college?
The tax-deferred cash value component of cash value life insurance is sometimes used to accumulate funds to pay for college. You may be allowed to withdraw paid-in premiums with no tax consequences, and borrow against the earnings at low or no interest. (Keep in mind, though, that policy loans and withdrawals may affect the death benefit.)
Remember the bottom line: your decision to purchase life insurance should center first on the death benefit. Buy life insurance because you need the financial protection it offers, not only as an investment alternative.
What you can do instead
When deciding which family members to insure, and which life insurance policies are appropriate, consider how your family's income might be affected. To specifically protect your child, you may want to purchase additional coverage on your own life and on your spouse's life. Since you and/or your spouse support your family financially, your child's financial future would be profoundly affected if you died. Make sure that the coverage on both parents' lives ensures that there will be enough money for day-to-day living as well as for college expenses, even if something happens to one of you.
This material was prepared by Broadridge Investor Communication Solutions, Inc., and does not necessarily represent the views of The Retirement Group or FSC Financial Corp. This information should not be construed as investment advice. Neither the named Representatives nor Broker/Dealer gives tax or legal advice. All information is believed to be from reliable sources; however, we make no representation as to its completeness or accuracy. The publisher is not engaged in rendering legal, accounting or other professional services. If other expert assistance is needed, the reader is advised to engage the services of a competent professional. Please consult your Financial Advisor for further information or call 800-900-5867.

The Retirement Group is not affiliated with nor endorsed by fidelity.com, netbenefits.fidelity.com, hewitt.com, resources.hewitt.com, access.att.com, ING Retirement, AT&T, Qwest, Chevron, Hughes, Northrop Grumman, Raytheon, ExxonMobil, Glaxosmithkline, Merck, Pfizer, Verizon, Bank of America, Alcatel-Lucent or by your employer. We are an independent financial advisory group that specializes in transition planning and lump sum distribution. Please call our office at 800-900-5867 if you have additional questions or need help in the retirement planning process.

The Retirement Group is a Registered Investment Advisor not affiliated with FSC Securities and may be reached at www.theretirementgroup.com.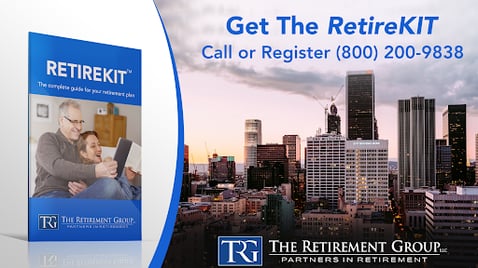 Tags: Financial Planning, Insurance, Lump Sum, Pension, Retirement Planning