Like many Americans, we're taking stock of the unprecedented experiences we've had and the turmoil we've seen over the past several weeks due to the Coronavirus pandemic. Our hearts go out to those who've been personally affected, whether financially, physically, or emotionally.

Events like these and the impact they may have in the future can be hard to understand, and that uncertainty feels worrisome and uncomfortable. That's why we're trying to fill in information gaps as much as we can and share new data with you as we receive it. The good news is that every day we learn more, and the more we know, the more we can do to prepare ourselves and help others.

Attached is the most recent edition of Market Matters, providing a detailed perspective on what's happening around the world and in our markets. As always, we are closely monitoring market conditions and your accounts, and we're always here to assist you however we can.
Securities offered through FSC Securities Corporation, member FINRA/SIPC and investment advisory services offered through The Retirement Group, LLC, a registered investment advisor not affiliated with FSC Securities Corporation. Although FSC is a signatory to the Broker Protocol, TRG is not. The removal of PII from FSC under the Broker Protocol is a violation of the Privacy Policy. Representatives are securities registered and are able to service clients in the following states: ALABAMA, ARIZONA, ARKANSAS, CALIFORNIA, COLORADO, FLORIDA, GEORGIA, ILLINOIS, INDIANA, KANSAS, MASSACHUSETTS, MICHIGAN, MISSISSIPPI, MISSOURI, NEVADA, NEW HAMPSHIRE, NEW JERSEY, NEW YORK, NORTH CAROLINA, OHIO, OKLAHOMA, OREGON, PENNSYLVANIA, SOUTH CAROLINA, TEXAS, TENNESSEE, WASHINGTON, WISCONSIN.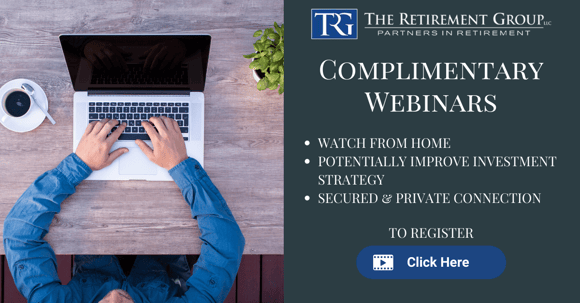 Tags: Financial Planning, Lump Sum, Pension, Retirement Planning