Introduction
If you're unable to meet your financial obligations, you have options. Which option or options you choose will depend on how severe your financial problems are and what resources you have. You should, however, act now. Delaying action could lead to further difficulties, including potential damage to your credit history, or even the possible loss of your home.
If you've lost income temporarily due to unemployment, reduced hours, separation or divorce, death of your spouse, or illness or injury, you may be able to survive for a period of time by collecting unemployment compensation, government assistance, or insurance, or by making lifestyle adjustments.
If overspending and mounting debts are a problem, you'll need to get your spending under control. You may want to consult a credit counselor to help you deal with creditors, reduce debt, and learn to manage your money better. And, if you can't get back on your financial feet again, either alone or with help, you may need to consider filing personal bankruptcy.
How you can help yourself
Increase your income, decrease your expenses
If possible, one way to ease your financial distress is to increase your income. You and/or your spouse might increase your hours, try to get a better paying job, or take on a second job temporarily. You might also want to consider converting any assets you may have to cash.
Another way to narrow the gap between income and expenses is to eliminate or reduce nonessential expenses such as dining out and entertainment.
Restructure current debts
There are a number of ways to restructure your current debts. One way is to refinance a debt and increase the repayment term. It may take you longer to repay the debt, but your monthly payment amount will decrease. Refinancing may also be a good option if it lowers your interest rate on the debt, resulting in a lower monthly payment amount.
You might also consider consolidating debts, if possible. This can be a good way to catch up on overdue accounts by rolling your debts into one single loan. If you can also extend the repayment period and lower your monthly payment, it may be easier to avoid falling behind.
If you can't refinance or consolidate, try to contact your creditors and let them know you are having financial difficulties. Try to work out an acceptable payment schedule. Most creditors will be receptive to your attempts, especially if you call before you fall too far behind on your payments.
How others can help you
Credit counseling
If you're unable to restructure debt payments on your own, you may want to consult a professional credit counselor. Credit counselors will contact your creditors and attempt to negotiate affordable repayment terms for you. They may be able to negotiate a reduction of interest rates, a waiver of penalties and late fees, extended repayment terms, and, in rare cases, partial loan forgiveness. Some arrange for consolidation loans and offer other financial services and advice.
Consumer Credit Counseling Service
If you can't afford to hire a credit counselor, you may find help at your local Consumer Credit Counseling Services (CCCS) office or other nonprofit credit counseling service. These nonprofit companies basically provide the same services as a professional credit counselor but at little or no cost to you. Instead of billing you for services rendered, their operations are funded by creditor contributions. Typically, CCCS negotiates with your creditors to formulate an affordable repayment plan.
CCCS and other nonprofit credit counseling services can't force creditors to participate in repayment plans, but it will cost you little or nothing to explore this option.
Restructuring debt through bankruptcy
Both individuals and businesses can restructure their debts in bankruptcy. Under Chapter 13, an individual with a regular source of income may be able to gain court approval of a repayment plan over a period of three to five years. Chapter 12 provides the same basic relief, with some modifications, for family farmers and family commercial fishing operations. Under Chapter 11, a business can propose a plan of reorganization to its creditors. Chapter 11 debtors can continue operating the business, and use future earnings to pay past due amounts.
You should seek the advice of an attorney when considering bankruptcy.
Chapter 7 bankruptcy
If your income is less than a certain amount, you might be able to file bankruptcy under Chapter 7. Under Chapter 7, debtors can keep exempt assets, but non-exempt property is sold and the proceeds are distributed to pay creditors. Remaining debts are discharged (with some exceptions). Relieved of the obligation to repay certain debts, you get the opportunity for a fresh start. To find out if you qualify, contact an attorney in your state.
This material was prepared by Broadridge Investor Communication Solutions, Inc., and does not necessarily represent the views of The Retirement Group or FSC Financial Corp. This information should not be construed as investment advice. Neither the named Representatives nor Broker/Dealer gives tax or legal advice. All information is believed to be from reliable sources; however, we make no representation as to its completeness or accuracy. The publisher is not engaged in rendering legal, accounting or other professional services. If other expert assistance is needed, the reader is advised to engage the services of a competent professional. Please consult your Financial Advisor for further information or call 800-900-5867.

The Retirement Group is not affiliated with nor endorsed by fidelity.com, netbenefits.fidelity.com, hewitt.com, resources.hewitt.com, access.att.com, ING Retirement, AT&T, Qwest, Chevron, Hughes, Northrop Grumman, Raytheon, ExxonMobil, Glaxosmithkline, Merck, Pfizer, Verizon, Bank of America, Alcatel-Lucent or by your employer. We are an independent financial advisory group that specializes in transition planning and lump sum distribution. Please call our office at 800-900-5867 if you have additional questions or need help in the retirement planning process.

The Retirement Group is a Registered Investment Advisor not affiliated with FSC Securities and may be reached at www.theretirementgroup.com.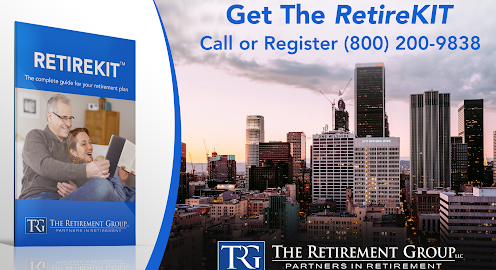 Tags: Financial Planning, Lump Sum, Pension, Retirement Planning