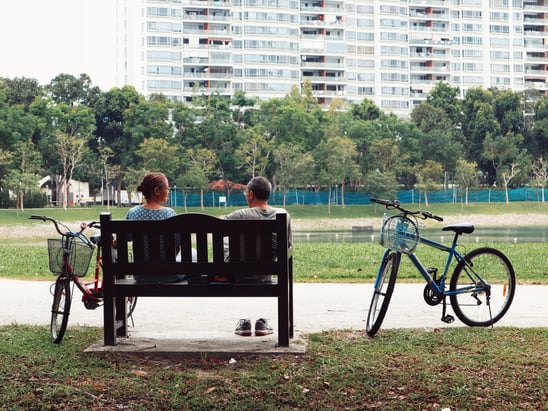 Rising interest rates also play a large role in the decision of whether to take your pension as an annuity or a one-time lump sum payment. As inflation continues to rise, the Fed has responded by gradually increasing interest rates, which decreases the value of the future pension payments as well as the lump sum value. This is because the future pension payments are worth less today as the dollar devalues and the higher investment return drives the total present value of the payments down. To show this mathematically, imagine an individual with pension payments of $48,000 annually ($4,000 monthly), 20 year time horizon, and 5% interest rate
The present value of all of these payments is worth $598,186, which should roughly be the value of the lump sum payment. With a single percentage increase in interest rates from 5% to 6%, the new present value of the payments is reduced to $550,556, just under an 8% decrease over the old present value. Evidently, rising interest rates negatively affect the present value of future payments so given Federal Reserve Chairman Jerome Powell's mention of 2-3 more interest rate hikes this year, the decision of whether to take a lump sum now or later could have a big impact on your retirement.
| | |
| --- | --- |
| "Taking your pension as a lump sum and knowing how to manage your funds to last for your retirement requires hard work." | |
In practicality, taking your pension as a lump sum and knowing how to manage your funds to last for your retirement requires hard work. Figuring out how much to withdraw, when to withdraw, and how much you can spend each year are just a few of the many decisions that are needed to be thought out in order to maximize the benefit of taking your pension as a lump sum. If you don't take the time to think out these decisions, you could find yourself running out of funds before the end of your retirement.
For those who would prefer the safety of a guaranteed stream of income for the rest of their lives, taking the annuity over the lump sum may be the better option for you. With taking your pension as an annuity though, there is no certainty that the company paying your pension will remain in business for the duration of your retirement so you run the risk of receiving smaller pension payments from the PBGC (Pension Benefit Guaranty Corporation) in the event that your past employer goes under. Both options have their pros and cons and in the end up to you to decide which suits your personal financial situation and lifestyle.
If you are interested in more information about this topic, view our e-book here: https://retirekit.theretirementgroup.com/effects-of-inflation-e-brochure
This information should not be construed as investment advice. Neither the named Representatives nor Broker/Dealer gives tax or legal advice. All information is believed to be from reliable sources; however, we make no representation as to its completeness or accuracy. The publisher is not engaged in rendering legal, accounting or other professional services. If other expert assistance is needed, the reader is advised to engage the services of a competent professional. Please consult your Financial Advisor for further information or call 800-900-5867.

The Retirement Group is not affiliated with nor endorsed by fidelity.com, netbenefits.fidelity.com, hewitt.com, resources.hewitt.com, access.att.com, ING Retirement, Alcatel-Lucent, AT&T, Apache Corporation, Altria, Avaya, Baker Hughes, Bayer, Boeing, BP, Bristol Myers Squibb, Chevron, Concho Resources, Hughes, fidelity.com, Wyeth, Northrop Grumman, Merck, Raytheon, Coca-Cola ,Qwest, Pfizer, Caterpillar, ConocoPhillips, ExxonMobil, Sempra Energy, San Diego Gas & Electric Company, Southern California Gas Company, Ameren, Anheuser-Busch, APL, Bank of America, Blackhawk Networks, Caterpillar, CenturyLink, Chevron, Citigroup, Clorox, Coca-Cola, Colgate, Con Edison, ConocoPhillips, Dexone, ExxonMobil, GlaxoSmithKline, Halliburton, Hewlett Packard Home Depot, Honeywell, HP, IBD, Johnson Controls Kaiser Permanente, Kimberly-Clark, Kinder Morgan, Lockheed Martin, McCormick Spice, Merck, Monsanto, Northrop Grumman, Occidental Petroleum, Pepsi, Pfizer, PG&E, Phillips 66, Phillip Morris, Qwest, Raytheon, Royal Dutch Shell, Safeway, San Diego Gas & Electric, Schlumberger, Scotts Miracle Gro, Sempra, Siemens, SoCal Edison, Sony, Southern California Edison, Teradata, Toyota Motor Corporation, Tropicana, United Parcel Service, Verizon, We Energies Group, Wisconsin Energy, Wyeth, Verizon or by your employer. We are an independent financial advisory group that specializes in transition planning and lump sum distribution. Please call our office at 800-900-5867 if you have additional questions or need help in the retirement planning process.

The Retirement Group is a Registered Investment Advisor not affiliated with FSC Securities and may be reached at www.theretirementgroup.com.
Tags: Financial Planning, Lump Sum, Pension, Retirement Planning