Financial statements for the first quarter of 2020 are on the way, and because of all the recent market fluctuations you may be feeling nervous about having lower balances in your accounts. But it's more important now than ever to stay focused on your overall plan and long-term financial goals (although in times like this that's certainly easier said than done). Many of us are feeling emotional, or even fearful, about the uncertainty we're experiencing. That's why it's critical to keep perspective.

History shows that the market has proven to be highly resilient, in spite of volatility. As investors over the past decade, we enjoyed a long upswing in the market, so this recent downturn feels significant and overwhelming. But in most cases, the best response is to stay the course, and give the market and your accounts a chance to recover…regardless of what your statements show right now.
If you are looking to schedule an appointment with an advisor to discuss your finances, click here.
Securities offered through FSC Securities Corporation, member FINRA/SIPC and investment advisory services offered through The Retirement Group, LLC, a registered investment advisor not affiliated with FSC Securities Corporation. Although FSC is a signatory to the Broker Protocol, TRG is not. The removal of PII from FSC under the Broker Protocol is a violation of the Privacy Policy. Representatives are securities registered and are able to service clients in the following states: ALABAMA, ARIZONA, ARKANSAS, CALIFORNIA, COLORADO, FLORIDA, GEORGIA, ILLINOIS, INDIANA, KANSAS, MASSACHUSETTS, MICHIGAN, MISSISSIPPI, MISSOURI, NEVADA, NEW HAMPSHIRE, NEW JERSEY, NEW YORK, NORTH CAROLINA, OHIO, OKLAHOMA, OREGON, PENNSYLVANIA, SOUTH CAROLINA, TEXAS, TENNESSEE, WASHINGTON, WISCONSIN.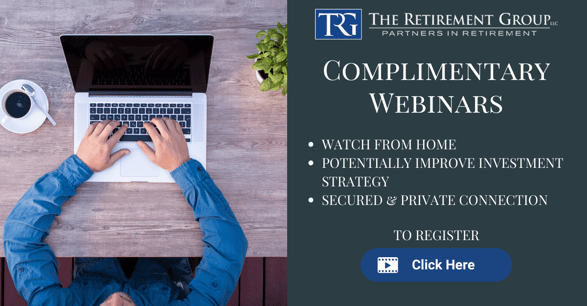 Tags: Financial Planning, Lump Sum, Pension, Retirement Planning