There's an old saying, "May you live in interesting times," and we sure have.

Sometimes "interesting" means inspiring and wonderful, but other times, it can be downright scary. Even scarier is when those interesting times result in a wild market. Unexpected events can lead to uncertainty, and uncertainty can negatively impact stock prices. But no one has a crystal ball, and uncertainty is just a part of a rich, multi-faceted life.

The good news is that no matter how challenging the crisis, over time the markets have proven to be very resilient. This flyer from Putnam Investments, Markets Recover from Crises, highlights how major historic events of the last 75+ years have affected the market…and more importantly, how the market eventually recovered, in every case.
Securities offered through FSC Securities Corporation, member FINRA/SIPC and investment advisory services offered through The Retirement Group, LLC, a registered investment advisor not affiliated with FSC Securities Corporation. Although FSC is a signatory to the Broker Protocol, TRG is not. The removal of PII from FSC under the Broker Protocol is a violation of the Privacy Policy. Representatives are securities registered and are able to service clients in the following states: ALABAMA, ARIZONA, ARKANSAS, CALIFORNIA, COLORADO, FLORIDA, GEORGIA, ILLINOIS, INDIANA, KANSAS, MASSACHUSETTS, MICHIGAN, MISSISSIPPI, MISSOURI, NEVADA, NEW HAMPSHIRE, NEW JERSEY, NEW YORK, NORTH CAROLINA, OHIO, OKLAHOMA, OREGON, PENNSYLVANIA, SOUTH CAROLINA, TEXAS, TENNESSEE, WASHINGTON, WISCONSIN.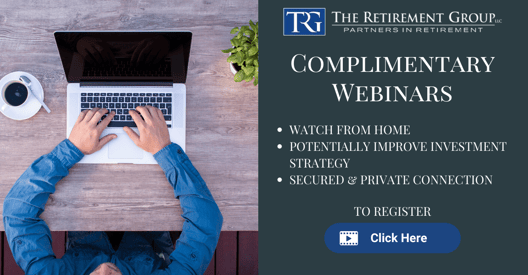 Tags: Financial Planning, Lump Sum, Pension, Retirement Planning