Whether you live in Texas or Puerto Rico, you'll receive quite a bit of useful information from this article. Many homeowners thinking about retiring are worried if one of their biggest assets, real estate, is about to plummet. Are you retiring & worried about a housing crash?
In this article we will make the case that although a few housing data points are elevated; This is not currently the 2007 Housing Bubble. You will see after reviewing five key drivers, that housing today is rising for the right reasons, and the housing sales forecast is not as bleak as it may seem.
Additional Articles You May Enjoy:
"Prices are now 57% higher than their last peak during the housing boom in 2006

"
Recently, it was reported that the S&P CoreLogic Case-Shiller 20-city home price index is up 20.2% in February year-over-year with the strongest month-over-month increase since the beginning of the data series. The hottest markets were Phoenix (up 32.9%), Tampa (32.6%) and Miami (29.7%). This brings up the question - Are we in another 2007 housing bubble or is this different?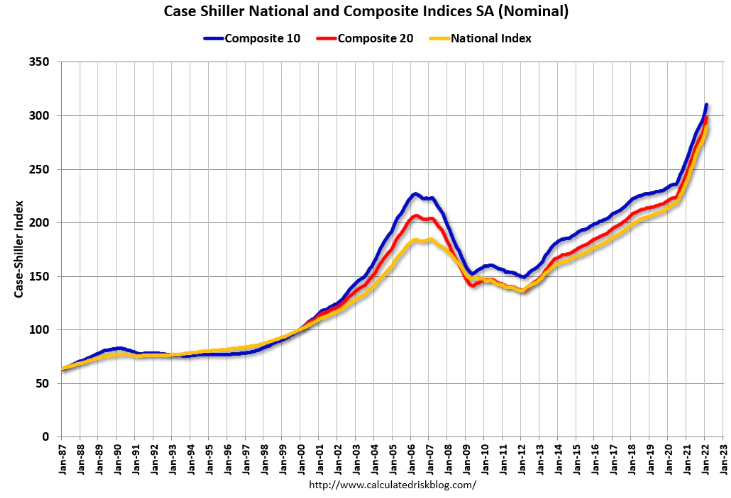 This graph shows the seasonally adjusted Composite 10, Composite 20 and National indices. In February, the Composite 10 rose 2.3%, Composite 20 rose 2.4% and the National Index was measured to be 57% above the 2006 bubble peak and 1.9% higher in February.
Why is this housing market different from the 2007 downturn? The key housing market data differentiating the current real estate market from the 2007 real estate market, are positive events for housing that we did not have in 2007.
1. Home equity is at record levels, which reduces the foreclosure risk we saw in 2007.
2. We had too much supply in 2007 versus today's markets, where we are still short 5-6 million homes and five years away from supply meeting demand .
3. Demand for housing dropped off in 2007 versus today's market, where demand for houses is high and there are more Millennial and Gen-Z buyers than baby boomers selling.
4. Replacement costs are a floor of value and currently the cost to reproduce a home is rising because of material price increases, shortages and higher labor costs.
5. Affordability and Multiple of Rents Valuations at current rates are high, but have many justified drivers behind them.
Home Equity
The equity in the average home is historically high. Total U.S. home equity stood at a record $26.3 trillion at the end of the fourth quarter of 2021, according to Federal Reserve data. According to National Mortgage Professionals, by year end 2021, US Homeowners had a substantial amount of tappable equity — the sum borrowers can generally take out of their homes while still leaving at least 20% as a cushion. Borrowers had a record $9.9 trillion in tappable home equity or $185,000 for the average homeowner. That is a 35% jump in a single year, according to Black Knight If we compare this to the 2007 Bubble, home equity was just $1 trillion. Additionally, mortgage debt has decreased significantly, standing at around 50% of the GDP, from 73.3% during the housing bubble. This is not a surprise as JP Morgan Chase CEO Jamie Dimon states "The US Consumers debt-service ratio is better than it's been since we've been keeping records for 50 years"

This low debt and equity growth also has enabled many families to finance home remodeling, such as adding an office or study, further adding value to their home. This contributed to a record level of home improvement spending through 2021, and a significant increase in annual home price growth. As home equity has drastically increased through the pandemic economy, many homeowners have cashed out on their equity, with net equity extraction for Q4 2021 standing at $161 billion, or 3.53% of disposable income, compared to that of 8% during the housing bubble.
We can see in the U.S. foreclosure market report, that while home equity increases may have cushioned foreclosures for single family homes, they are rising rapidly. This can mostly be explained by backlogged foreclosures from the pandemic moratorium. "As expected, now that the moratorium has been over for months, foreclosure activity continues to increase," said ATTOM. Equity has increased for many of these distressed homeowners and now many may have enough equity to renegotiate a new loan or downsize to something more appropriate. Foreclosures were up 129% in February YoY and the trend is expected to continue for another six months according to ATTOM. Most likely, these foreclosures will be absorbed by the high rate of demand that has been relatively stable for a while.
Housing Supply
Housing supply growth begins with lot supply. According to Zonda's Lot supply Index (LSI), we have had a rather flat quarter in Q1 2022 in terms of lot supply with supply being up 0.1% quarter over quarter. The latest LSI saw a 27.8% drop compared to last year with 29 out of 30 selected top markets being "significantly undersupplied." Atlanta, New York, and Denver currently have the tightest lot supply among major markets due to long governmental reviews, supply chain disruptions, and a lack of workers.
"The U.S. was short 5.8 million million homes in Q4 2021, an increase of
1.96 million from the 2019 gap of 3.84 million,
As of February, assuming housing formations continue at the five year average, the average rate of home completion would have to more than double to close the gap in home completions and household formations in 5-6 year. Another way to look at the numbers is if housing formations sustain the slow 2021 rate and home completions continue to be strong, it will take more than double the rate of home completions to close the gap in five years

Todays supply numbers are due to 10 years of very low new home starts, aging of millennial's into homebuying years, pandemic shift away from cities, record low mortgage rates, a move away from multi-family rentals, single family homes, second home buying, Baby Boomers aging in place and now cost of materials and labor costs stifling new home starts.
The fact is the U.S. is short 5.8 million homes


The 5.8 million shortage of homes is an increase of 1.96 million from the 2019 gap of 3.84 million, according to Realtor.com. The lack of inventories started in 2008, when new home starts went from 40k per million since 1960 to 20k per million for 10 years starting in 2010.
The construction of Single-family homes has increased steadily since it bottomed in the midst of the 2009 Great Recession; It is still lower than before the housing boom, and is in fact, running at its slowest pace since 1995. Looking at 2019, more new homes were completed in 2019 than in any other year of the past decade, and still there were far fewer homes built than in any other non-recession year in the postwar era. In addition to that, 2020 and 2021 have had even lower rates of home completion than 2019, particularly when adjusting for population size, which is key for predicting household formation. Privately‐owned housing starts in March 2022 were at a seasonally adjusted annual rate of 1,793,000. This was 0.3 percent above the revised February estimate of 1,788,000 and was 3.9 percent above the March 2021 rate of 1,725,000. Currently there are 426 thousand multi-family units under construction. This is a drop from the 2021 peak, which was the highest level since July 1974 yet it has not had a big impact on the overall shortage. Houses that have started are also being delayed because of cost increases. Approximately 15% of builders said they are putting down concrete foundations (Considered a Home Start) and then holding off on framing the house. These facts are further evidence that builders are delaying building due to the substantial increase in costs for labor, lumber, copper, rebar and other materials. Given the current market conditions, homebuilders would have to double their recent new home production to alleviate the shortage, in five to six years.
"New Construction increased nearly 0.3% in March quarter over quarter to

1.79 million rate

"

The graph shows the year-over-year (YoY) change in reported existing home inventory and months-of-supply. Since inventory is not seasonally adjusted, it really helps to look at the YoY change. Note: Months-of-supply is based on the seasonally adjusted sales and not seasonally adjusted inventory.

Inventory is very very low and was down 9.5% year-over-year (YoY) in February. This includes pending sales and it seems likely that active inventory is down closer to 15% YoY. Also, as housing economist Tom Lawler has noted, the local MLS data shows even a larger decline in active inventory (the NAR appears to include some pending sales in inventory). Lawler noted:
"As I've noted before, the inventory measure in most publicly-released local realtor/MLS reports excludes listings with pending contracts, but that is not the case for many of the reports sent to the NAR (referred to as the "NAR Report!"), Since the middle of last Spring inventory measures excluding pending listings have fallen much more sharply than inventory measures including such listings, and this latter inventory measure understates the decline in the effective inventory of homes for sale over the last several months."
It seems likely that active inventory is down even more year-over-year.
Months-of-supply, as of February 2022, was at a record low of 1.8 months. This is even lower than the previous record that was 1.9 months set in December of 2020.
We are currently seeing record low inventory rates as compared to January and February of 2021. As of March 2022, inventory was at 717,902 as opposed to 1.03 million in January and February of this year.
In San Diego, active inventory was down 8.6% MoM in February and down 45.4% YoY since 2021. These numbers continue to be lower in March than last year's record inventory lows in January and February. All of this is happening despite mortgage rates blowing past 4% and well on their way through 5%. This shortage is not specific to San Diego, California home sales have been down 8.2% with prices going up 10.3% year-over-year. Seasonally, housing inventory tends to bottom out in February however, they didn't bottom until April of last year. While some segments of the market are seeing increases in inventory, San Diego's supply continues to decrease.
Some areas of the nation are starting to see a slight shift with places like Sacramento and Santa Clara both seeing a double digit percentage increase in their housing supply month over month. That being said, new housing listings were also down 16.3% year-over-year in San Diego in addition to closed sales declining by 12.4% YoY. The decline in sales along with low new housing starts, continuing record low levels of inventory, and less active listings has lead to a boom in local SD markets with a majority of the nation following suit. It will be important to monitor these inventory statistics in the coming months as they can be a key indicator of the housing market's trend throughout the year and into the future.
In terms of rental properties, vacancy rates were at 4.7% in Q1 of 2022, down from 4.8% in Q4 of 2021. This rate was even further down from a pandemic peak of 5.4% in early 2021. This has driven up rental rates significantly in the short term. That being said, there was the highest number of multi-family housing units since 1974 this quarter. The eventual completion of these units should help alleviate some of the rental pressure that the market is facing. This is of course contingent on supply chain and construction delays also being relieved.
An additional items keeping home supply off the market, has been Boomers not selling. Baby boomers account for about 44% of America's housing wealth despite only making up 28% of the adult population. Boomers are not moving and downsizing, which would typically create inventory. Those that do want to downsize are competing for the same low inventory starter homes that Millennials want, so Boomers are just staying put. The Boomers born between 1946-1964 are now turning 75 and are much healthier than prior generations. Based on historical data, we should see some relief as the baby boomers start hitting their 80's in the next 5-10 years and begin selling their homes.

Figure 1A
Figure 1B
On top of the already low housing supply, supply chain issues have driven homebuilders' confidence to continually fall. These continued disruptions added to the supply constraints signal that this problem will persist in the near term. The Russo-Ukraine conflict is also contributing to the supply chain issues due to tariffs on commodities like lumber and trade tensions between Russia and the world. The National Association of Home Builders chairman recently said in an address to the current administration, "These supply chain price increases have only added to the ongoing housing affordability crisis." The following chart showcases how supply chain pressures have been ongoing and in fact increasing since the advent of the pandemic:
Housing Demand
With rates at 5%, standard economic models suggest that continued Fed policy should weigh substantially on housing, the most interest rate-sensitive segment of the economy. The good news is with the extreme supply-demand imbalance, high levels of all-cash sales and investor purchases may make housing markets more resilient to a big run-up in mortgage rates. Be aware the more resilient the housing is to rate hikes the more the Fed will have to hike to cool embedded inflation.
If we look at three previous periods with similar rate increase, we have seen sales slowdowns by about 10%. In 2018, rates increased from roughly 4.0% to 4.9% and new home sales declined from around 650 thousand to 590 thousand. In 2013 mortgage rates increased from 3.4% to 4.5% from May to July, new home sales fell from about 440 thousand per month to about 390 thousand per month. In 1994 rates increased from 7.2% to 8.4%, and new home sales fell from around 730 thousand to 650 thousand.
Although rising rates are said to be causing a slowdown in demand , there is still limited inventory causing housing to get 4 offers in 4 weeks. Even as rates go above 5%, the California Association of Realtors, homes in California are on the market for about 21 days before starting the closing process, with 60% of homes selling above the listing price. This is in a rising rate environment and the exact opposite of the subprime housing boom.
The demand for luxury homes fell slightly in Q4 2021 most likely due to rising rates and property prices. Sales of single family luxury homes with a median price of $1,038,000 fell 16.3% year over year. Some of this decline can be explained by a surge in Q4 2020 where luxury home buying increased due to affluent Americans taking advantage of low rates to buy high-end homes. There was also an increase in demand from those buying two homes. According to a recent report from Coldwell Bankers, The report 2022 explains that another factor increasing demand is the increase in second home ownership. The article states over 70% of individuals in the US with a net worth over $5 million now own at least two homes.
By comparison, purchases of homes in other price tiers changed from between -9.2% to 11.3%, according to Redfin. One of the actual increases in luxury home sales is in San Diego, CA, where demand for homes over $5 million jumped an amazing 88.4% (attached) The next large wave of millennial buyers are now aging into their prime buying years, followed by a smaller wave (Figure 2b). The current demand is from the Baby Boomers' adult children as some are just moving out of their parents' homes (finally at 30!). "Compared to their younger generational peers, they have a higher savings rate, and are more likely to own homes and have kids - a sign that many have recovered from the financial fallout," according to Insider. Millennials have comparatively less student loan debt than their younger peers (Figure 2), a factor to the Goldman Sachs Housing Crash Index (See Figure 6). A factor particularly influential on the demand for housing is household formation, of which young adults play a key role. According to the latest data published by the Pew Research Center, a majority of young adults live with their parents now, for the first time since the last depression. Current population survey data by the Census Bureau indicates that household formation surged through 2020 most likely due to pandemic related relocations and moves. Housing formations declined slightly through 2021 with an actual drop in housing formations, which hadn't happened in the last 20 years. Signed contracts to buy existing homes decreased by 4.1% in February 2022 compared to January 2022. Sales are believed to have dropped due to high mortgage rate increases, which have broken through 5% now. On a month-to-month, seasonally adjusted basis, sales dropped 6.0% in the Midwest, 4.4% in the South, and 5.4% in the West. In the Northeast, pending sales rose 1.9%.
Figure 2a
The saving rate was at 7% through 2021 and has contnued to hover around 6.3% in 2022, compared to just 3% in 2007. Most analysts agree the US consumer will allocate this excess savings above 3% to discretionary spending and/or new home purchases. "The number of households with savings accounts rose to 52.1% in 2019, from 47.1% in 2004, while the median balance increased to $5,000 from $3,000 during the period," stated Forbes in regard to savings accounts nationwide. Even today, during this housing shortage, Formations are expected to average 1.3m and increase from 7.3m in the last decade to 8.5m in 2020-2030, fueling future demand. Through march 2022, Millennial applied for more mortgages than any other generation making up 43% of homebuyers. At the current rate of demand, we now need 3-4 years of accelerated new home starts just to catch up with the group of aging Millennial increasing new home formations (Blue Line Chart 2b & 2c).
Figure 2b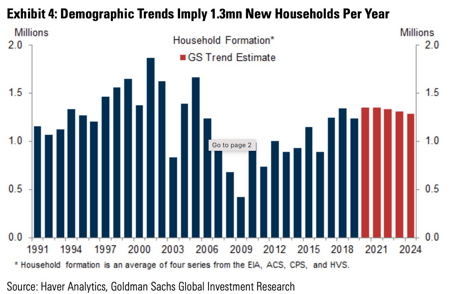 Figure 2c
Large banks have additional capital to lend as they reverse the billions in loan loss reserves for a housing crisis that did not happen. Also, with mortgage rates rising rapidly, there is a better financial incentive to lend, as loans are more profitable as rates rise (increased NIM). As rates rise and as buyers overcome lending standards, many cash home buyers are getting funds from securitized non real estate loans (secured by cash, stocks and bonds) with an interest rate of 3% to buy homes for cash. While there is concern that rising fixed 30-year rates will slow down the buyer, there is relief with the 5/1 adjustable loans. You can still get a 5/1 which is fixed for 5 years at 3-4%, which will still make buying affordable even if 30 year fixed rates go up to 6 or 7%. Further expansion in more available financing is slowly becoming more flexible. For example, there is now more financing for buyers with credit scores below 700, more financing based on assets rather than income, and underwriters allow house flipper financing.
With the proliferation of remote work and relatively low interest rates for the time being, individuals moving from out of town to places like Nashville, Philadelphia, New York, Atlanta, and Miami have come into to these markets with considerably higher budgets for housing. Data from Redfin shows that in each of these cities mentioned, those entering the market who would be coming from out of town have at least a 25% higher budget to purchase a home. This has created a strain on local homebuyers who cannot compete with the influx of capital to these local housing markets.
Another tailwind pushing demand for higher end homes near the coasts is the foreign buyer coming back. For the last 20+ months buyers from Europe, China, Brazil, and India were not able to enter the U.S to look at homes. The wealthy overseas buyers are cash buyers and are not affected by higher mortgage rates. Sales data suggests the wave of overseas buyers could generate tens of billions of dollars in added sales. Foreign buyers who want on the coast, spent $267 billion on U.S. real-estate in 2018 and $183 billion in 2019, before the pandemic, according to the National Association of Realtors. In 2021, their spending fell to $54.4 billion, suggesting large pent-up demand as buyers weren't able to tour or visit properties. We should see how this pent-up demand is exercised as 2022 progresses. Considering that mortgage rates will continue to rise with rising Fed rates, these foreign buyers paying in cash could make up an increasingly large slice of the market.
Replacement/Reproduction Costs
One of the most searched words on the Internet is the word "Inflation". It is no wonder why it is searched as inflation hit a 41-year high in March 2022 at 8.5%. As inflation increases, it increases the costs to build a home thus raising home prices. Replacement/Reproduction Costs rose drastically through the pandemic as supply chain costs, government regulation, new "greener" requirements, and permit processes increased the cost of land and construction. Inflation is hitting wages as builders cannot find enough workers, forcing builders to face increased cost of construction, with construction cost prices being 24.4% higher overall than a year ago, per ABC. Additionally, American builders have grown frustrated, as bottlenecks in material supply chains continue to delay construction projects. Rick Palacios Jr. on Twitter referenced that San Diego Builders have to raise prices to keep up with inflation "There hasn't been an elevating cost environment like this for ~40 years. Anyone who says otherwise is delusional. If home price increases were less it would be brutal."
"C

onstruction input prices are 24.4%
higher

in February 2022

than in February 2021

"
Commodity prices prices had begun to stabilize as previously disrupted supply chains were mended, until Russia's incursion into Ukraine sent lumber prices soaring back to near record highs. Russia is the worlds largest exporter of lumber and due to rising tensions, their invasion of Ukraine, and the subsequent sanctions against the country, this drastic rise in a key input of new housing is already having a dramatic affect on new home prices. The National Association of Home Builders estimates that the recent price spike will add nearly $20,000 to the cost of a newly built home.
As inflation continues to increase, replacement costs rise, lack of land, cost of land, and labor prices increase, home prices will rise on new and existing homes or builders will not build.
What we are seeing is costs increase on the regulatory level as well, which increases the replacement costs of housing units. Everyone wants a sustainable home but the fact is sustainable and solar improved homes are very expensive. A recent study from the NAHB found that regulations imposed by all levels of government on new homes account for $93,870, or 23.8%, of the current average sales price ($397,300). This increases costs and pushes developers to build more expensive homes and less starter homes. Regulatory costs can be absorbed easier on a more expensive property.
Affordability
The combination of rising prices and rising interest rates continues to compound pressures on prospective homebuyers using data from Black Knight. The monthly principal and interest payment required to purchase the average priced home with 20% down is at an all-time high of $1,692, up $329 (24%) from a year ago. It now takes 29.1% of the median household income to purchase the average home with 20% down and a 30-year mortgage, up 19.3% from 15 months ago.
According to Black Knight, historical payment-to-income ratio pre 2007 averaged 25%. Recent Interest rate jumps have pushed the payment-to-income ratio to 29.1%. In the last few months the interest rate increase has resulted in the worst affordability levels in 15 years. That's up considerably from about 23% in 1990, when many baby boomers were in their late 20s and 30s. While a 20.5% ratio has been the tipping point between market acceleration and deceleration over the past decade, as we stated earlier, severe inventory shortfalls are keeping home prices running hotter than they might otherwise
When looking at a Housing affordability Index that uses three (3) key metrics, home prices, interest rates, and wages, put into a single number, things are beginning to look grim in affordability. Based on the Index put out by First American homes affordability has been trending downward for a while now, namely due to real housing price increases and rising rates.
Also, another index called the Calculated Risk Affordability Index (CRAI) (see figure 8) shows that houses are in general the least affordable since the housing bubble. This does not say anything about whether or not it would be a good time to purchase a home. This is also influenced by the fact that there were many affordability products around during 2006 that allowed borrowers to be qualified at teaser rates. Mortgages are rising above 5% so we should expect to see a sharp increase in the affordability index in the coming months.
Now that mortgage rates have risen to numbers that haven't been seen in a few years it begs the question, are homes here in San Diego still affordable? Yes and no. For the average population in San Diego affordability numbers are down, however these numbers do not include variable products like 5/1 mortgages that have lower rates. In addition, many salaries are surging to keep up with inflation. There has also been a migration of professionals who are involved in remote work to move from more expensive parts of California, like Los Angeles or San Francisco, down to San Diego. Prices in Sunnyvale, CA, near silicon valley were $1,000/SF 9 years ago and newer, nicer homes in Carmel Valley are seeing prices of $850/SF. Due to this price differential and the advent of remote work these professionals are finding San Diego relatively cheap and may continue to drive down inventory rates.
Price to Income and Rents
One of the metrics for home prices, Price-to-Wage, has seen an increase in the past few months passing 2006 levels, in line with the increase in the affordability indices (See Figure 7 below). However, the current 30 year treasury rates are at 2.94%, which is half of the rate during the 2006 bubble. While lower treasury rates are a good sign for the time being in terms of affordability, interest rates are rising rapidly to combat inflation and could feasibly be within the 2006 range within the short term of 1-3 years. This, in conjunction with low supply and very high demand means that affordability may continue to decline in the near term in competitive markets.
The Price-to-Rent indicator shows that we are above 2006 levels (see figure 5). The Case-Shiller National index and Composite 20 House Price Indexes have picked up recently, moving the price-to-rent ratio upwards significantly. While some renters, with the best timing, signed their one-year leases in Q4 2020 when rents were at their lowest point, those leases have come due for renewal. These same individuals are likely paying up to 20% more than they did in their previous leases. In the current market renters often have no choice but to renew at these higher prices or be forced to search for a new place to rent in an extremely competitive market.
Reis recently reported that effective rents were up around 2.5% in Q1 2022 as compared to Q4. Year over year rent prices were up 15.6%. To put that in context, annual rent growth averaged just 2.3 percent in the pre-pandemic years from 2017-2019. This recent increase in rental prices is bringing the price-to-rent multiple back in line. This is reinforced by Goldman Sachs' prediction of low probability of a crash in the next two years (Figure 6). That being said, rent prices are only up 5.9% annualized in the last two years, suggesting that a large portion of these increases are simply making up for previous declines.
Rental occupancy nationally was recorded at 94.4%, meaning that even as current leases expire, rents will continue to rise. As rents continue to increase and mortgage rates also increase at rapid rates, home buying power is most likely decreasing. House-buying power is dependent on changes in interest rates and income. This is evidenced by the increase in affordability indices as well as the increase in real house prices.
As we stated above to afford homes, buyers are buying with friends and family. The number of co-buyers with different last names increased by 771% between 2014 and 2021, according to data from real-estate analytics firm Attom Data. Among all age groups during the early pandemic months—April to June 2020—11% of buyers purchased as an unmarried couple and 3% as "other" (essentially, roommates). Those numbers were up from 9% and 2%, respectively, in the previous year. Unmarried couples and friends are buying together. Nominal housing prices have boomed lately well above 2006 peaks and with real house consumer buying power down 3.6% from January to February and down 6.8% YoY it makes sense people are looking for housemates. Since the 2006 boom in unadjusted prices, the average 30-year fixed mortgage rate fell by around 1.2 percentage points, from 6.32% to 5.11%. Over the same period, nominal household income increased by 60%. While up to this point these moves have ensured that real house consumer buying power hasn't been wiped out completely, affordability indices are signaling that affordability is diminishing.
Figure 3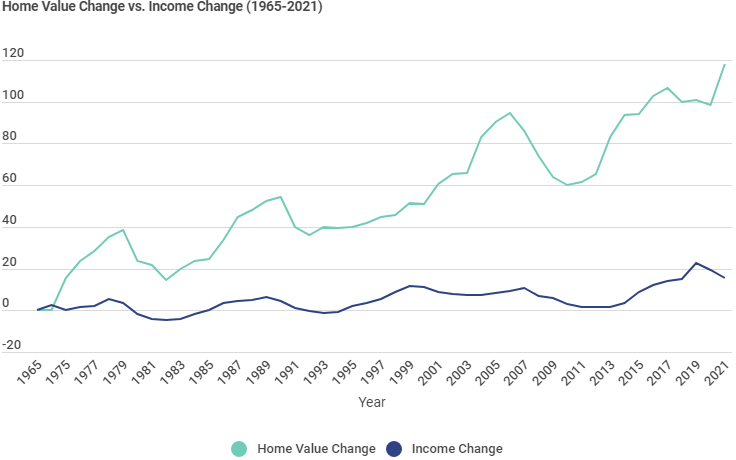 Figure 4

Figure 5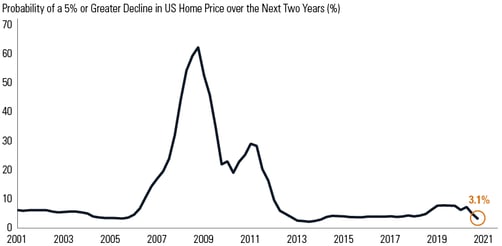 Figure 6
Figure 7
Figure 8
The Bottom Line
The bottom line is that individuals looking for insight into the current state of the housing market need to watch supply(most important), affordability, multiples of rent/income, demand, interest rates, and further supply chain disruptions. Now that the NAR affordability index is below 120 and with rents rising in conjunction with income rising at a slower rate, we should begin to see inventories rising and price growth slowing in the near future. When housing supply (Inventory) starts to increase, look for the spike similar to what we saw in late 2006/2007 (Figure 1b).
Look for changes around the following:

1. Most important is to watch closely for the potential pivot to excess supply spike in 2-5 years as we always overshoot in both directions.
2. Monitor the rental price increases that will be occurring throughout the rest of the year
3. Look for higher rates, rental price increases, and whether incomes increase proportionally
4. Many workers are either returning to work in their home cities or going online permanently and looking for a change of scenery, driving up rental prices across the board. The longer the pandemic has effects on work, the longer the new habits will become the norm. The Hybrid (home and office) worker will continue with the trend toward remote working, online shopping and home entertainment continuing.
5. Watch demand led by the following:
Demand from Millennials will be favorable for home selling for the next few years as seen in Figure 2 on page 9. Demand from the 31-41 generation(Millennials) and in the next five years from older Gen-Z of buyers is much stronger than the future supply coming from the 56-75 year old baby boomers downsizing or moving into retirement communities.

Watch mortgage rates as they are on their way up. Also remember the very powerful FOMO (Fear Of Missing Out) emotion as rates rise. Now that rates are past 5% watch for an even higher increase in home buying as people hope to hop on the train before rates climb higher and they no longer qualify for mortgages.




Sources
This is Not the 2007 Housing Bubble" The Retirement Group, 25 April. 2021, https://theretirementgroup.com/
https://www.blackknightinc.com/
https://www.houseloanblog.net/build-wealth-buying-your-first-home/
https://www.cnbc.com/2022/01/25/home-prices-surged-in-november-but-at-a-slower-rate-sp-case-shiller-says.html
https://www.prnewswire.com/news-releases/sp-corelogic-case-shiller-index-reports-19-5-annual-home-price-gain-in-september-301434240.html
https://nationalmortgageprofessional.com/news/hot-housing-market-boosted-homeowners-equity-1t-2q
https://nationalmortgageprofessional.com/news/hot-housing-market-boosted-homeowners-equity-1t-2q
http://www.mortgagenewsdaily.com/05172021_home_equity.asp
https://www.attomdata.com/news/market-trends/foreclosures/attom-july-2021-u-s-foreclosure-market-report/
https://fred.stlouisfed.org/series/ACTLISCOUUS
https://www.ibtimes.com/us-new-home-construction-slows-july-3276251
https://zondahome.com/new-home-lsi-new-home-lot-inventory-dropped-to-cycle-lows/
https://www.cnn.com/2021/08/23/homes/us-home-sales-july-feseries/index.html
https://www.census.gov/construction/nrc/pdf/newresconst.pdf
https://fred.stlouisfed.org/series/AUTHNOTT
https://www.reuters.com/business/us-housing-starts-fall-october-building-permits-increase-2021-11-17/
https://www.cnbc.com/2021/12/21/rents-for-single-family-homes-are-rising-3-times-as-fast-as-2020.html
https://www.wsj.com/articles/if-you-sell-a-house-these-days-the-buyer-might-be-a-pension-fund-11617544801?mod=article_inline
https://www.noradarealestate.com/blog/california-housing-market/
https://issuu.com/thereportgroup/docs/coldwell_banker_global_luxury_report_2021?fr=sMmQ4YjIyMzM0
https://www.redfin.com/news/luxury-real-estate-q3-2020/
http://sdar.stats.10kresearch.com/docs/hso/x/report?src=page
https://www.businessinsider.com/typical-40-year-old-oldest-millennials-debt-net-worth-earnings-2021-7#the-typical-40-year-old-millennial-was-one-of-those-hardest-hit-by-the-great-recession-1
https://www.gsam.com/content/gsam/us/en/individual/market-insights/market-strategy/global-market-monitor/2021/market_monitor_072321.html
https://www.pewresearch.org/fact-tank/2020/09/04/a-majority-of-young-adults-in-the-u-s-live-with-their-parents-for-the-first-time-since-the-great-depression/
https://tradingeconomics.com/united-states/personal-savings
https://www.forbes.com/sites/tedknutson/2021/08/16/savings-accounts-popularity-rises-despite-negligible-interest-rate/?sh=440897666831
https://www.urban.org/sites/default/files/publication/103501/the-future-of-headship-and-homeownership.pdf
https://amerisurv.com/2021/08/12/construction-input-prices-up-23-1-year-over-year-says-abc/
https://www.metalbulletin.com/Article/3992464/US-rebar-prices-rise-again-new-mill-price-increase-expected.html
https://www.mining.com/copper-price-rises-as-chinese-buyers-come-back-to-the-market/
https://policyadvice.net/insurance/insights/average-american-income/
https://www.chainstoreage.com/construction-input-prices-jump-october
https://www.nar.realtor/blogs/economists-outlook/housing-affordability-conditions-unchanged-in-september
https://www.foxbusiness.com/economy/housing-black-swan
https://tradingeconomics.com/unithttps://www.corelogic.com/intelligence/single-family-annual-rent-growth-hits-sixth-consecutive-record/ed-states/wages
https://www.corelogic.com/intelligence/single-family-annual-rent-growth-hits-sixth-consecutive-record/
https://www.nytimes.com/2021/08/26/us/eviction-moratorium-ends.html
https://www.realtor.com/research/march-2021-rent/
https://www.newyorkfed.org/newsevents/news/research/2021/20210809
https://www.fanniemae.com/research-and-insights/surveys/national-housing-survey
https://www.naahq.org/news-publications/rents-occupancy-hit-record-levels
https://blog.firstam.com/economics/todays-house-prices-are-over-40-percent-more-affordable-than-the-housing-boom-peak
https://www.firstam.com/news/2021/rising-rates-dull-house-buying-power-20211026.html
https://fred.stlouisfed.org/series/CSUSHPINSA
https://arbor.com/research/q2-2021-single-family-rental-investment-trends-report/
https://listwithclever.com/research/home-price-v-income-historical-study/
https://fred.stlouisfed.org/graph/?g=786h
https://www.apartmentlist.com/research/national-rent-data
https://twitter.com/RickPalaciosJr
https://www.fa-mag.com/news/out-of-town-home-buyers-will-pay-30--more-than-locals-in-hottest-u-s--markets-66406.html
https://www.nahb.org/news-and-economics/industry-news/press-releases/2022/02/builder-confidence-eases-on-supply-side-constraints
Disclosure: Securities offered through FSC Securities Corporation (FSC) member FINRA/SIPC. Investment advisory services offered through The Retirement Group, LLC. FSC is separately owned and other entities and/or marketing names, products or services referenced here are independent of FSC. Office of Supervisory Jurisdiction: 5414 Oberlin Dr #220, San Diego CA 92121 six