The real estate market has been appreciating through the pandemic and homeowners became $2 trillion richer in the first three months of 2021. When drilling down to the largest metropolitan areas in the country, the 10-city composite home prices in May increased 16.4% year over year, from 14.5% the previous month according to the S&P CoreLogic Case-Shiller Index(See Figure 1a). Phoenix, San Diego and Seattle reported the highest year-over-year gains This brings back the big concern that we are in another 2007 housing bubble.
" Home prices in May increased 16.4

% "
Are you retiring & worried about a housing crash? In this article we will make the case that although a few housing data points are elevated; this is not currently the 2007 Housing Bubble. You will see after reviewing five(5) key drivers that housing today is rising for the right reasons, and the housing sales forecast is not as bleak as it may seem.

The key housing market data differentiating the current real estate market from the 2007 real estate market are positive events for housing that we did not have in 2007.
1. Home equity is at record levels, which reduces the foreclosure risk we saw in 2007.
2. We had too much supply in 2007 versus today's markets where we are short 5.5 million homes.
3. Demand dropped off in 2007 versus today's market where demand is high and there are more buyers than baby boomers selling.
4. Replacement Costs are a floor of value and currently the cost to reproduce a home is rising.
5. Affordability and Multiple of Rents Valuations at current rates do not show bubble pricing versus the 2007 market multiples.
Home Equity
The equity in the average home is historically high. According to the Federal Reserve U.S. home equity totaled more than $22 trillion at the end of 2020, almost double the amount of outstanding mortgage debt at $12 trillion. If we compare this to the 2007 Bubble, home equity was just $13 trillion and debt was $12 trillion.

The increase in home prices boosted the amount of home equity for the average homeowner with a mortgage to more than $200,000. This equity growth also has enabled many families to finance home remodeling, such as adding an office or study, further adding value to their home. This contributed to a record level of home improvement spending in the last 12 months and a significant increase in annual home price growth.

We can see in the U.S. foreclosure market report that home equity increases have also reduced the amount of single-family foreclosures & overall foreclosures. The estimated 4.25% distressed rate and the moratorium on foreclosures are contributors in keeping supply low by keeping inventory off the market. The 600,000 homes that are off the market may continue to see appreciation and increased equity. When these foreclosures eventually hit the low supply market in late summer, equity could be higher and many of these distressed homeowners may have enough equity to renegotiate a new loan. Any remaining foreclosures hitting the market could be absorbed by eager home buyers, or investors and institutions looking for homes to buy as rentals.
Housing Supply
Housing supply growth begins with lot supply. Lot supply decreased as builders paused or slowed land purchases when the pandemic caused a shutdown of economic activity in the U.S. in March 2020. According to Zonda's quarterly index, we now see nationally, available lots have hit an all time low, down 24.2% with San Diego and LA at the bottom.
"

We are short 5.5 million homes of what we need based on historical levels, according to a

NAR report

.

"
These supply numbers may be even worse, as many reports include pending home sales in the NAR supply numbers. For example, when looking at NAR in January, the NAR is reporting that inventory was down 25.7%. Realtor.com shows inventory is down around 50% year-over-year. See Chart 1b. The February Black Knight report on the supply of homes for sale dropped 40% year over year, the largest annual decline ever. The drop in supply today is due to a low new home starts for 10 years, pandemic shift from cities, record low mortgage rates, a move away from multi-family rentals, single family homes, second home buying, and now cost of materials have stifled new home starts. Home prices in April had a annual gain of 14.4%, the highest reading in 30 years of S&P CoreLogic Case-Shriller data. The lack of inventories started in 2008 when new home starts went from 40k per million since 1960 to 20k per million for 10 years starting in 2010(Figure 1B). Looking at 2019, more new homes were completed in 2019 than in any other year of the past decade, and still there were far fewer homes built than in any other non-recession year in the postwar era. Particularly when adjusting for population size, which is key for predicting household formation. We are only building about 26k single-family homes per million Americans, still below the average of almost 40k per million. This leaves the U.S. short approximately 4 million to 6.8 million homes. Housing completions were at a rate of 1.368 million in May, which is 4.1% below last month. Data shows the share of homes authorized but not yet started surged last month to the highest level recorded since data collection began in 1999. Houses that have started are also being delayed because of cost increases. Approximately 15% of builders said they are putting down concrete foundations (Considered a Home Start) and then holding off on framing the house. These facts are further evidence that builders are delaying building due to the substantial increase in costs for labor, lumber, copper, rebar and other materials.
"New home starts went from 40k per million since
1960 to 20k per million for 10 years
starting in 2010"
Taking additional supply off the market has been rentals. According to RENTCafe's US Census report, from 2007-2016 single family rentals rose by 31%, and multifamily homes rose by just 14%. At the same time housing starts dropped while many of these investor owned rental conversions were bought by institutions and individual investors. These homes were first time home buyer properties, which took that supply off the market. Second, the supply of Baby Boomers' homes, who own 54% of the nation's homes, is not hitting the market. Boomers are not moving and downsizing, which would typically create inventory. Recently, when the Boomers do move, we are seeing only 50% downsize and 30% are actually upsizing their home. Those that do want to downsize are competing for the same low inventory starter homes the Millennials want, so they are just staying put. The Boomers born between 1946-1964 are now turning 75 and are much healthier than prior generations. Based on historical data, we should see some relief as the baby boomers start hitting their 80's in the next 5-10 years and begin selling their homes.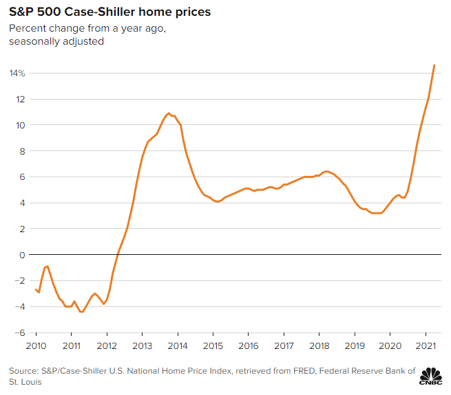 Figure 1A
Figure 1B
Figure 1C
Housing Demand
Housing Demand can be best explained with the two phrases "4 + 4" and "big is back". Sellers are seeing 4 offers in 4 days. According to California Association of Realtors, homes in California are on the market for about 7 days before starting the closing process, with 70% of homes selling above the listing price. This is the exact opposite of the subprime housing boom. Buyers are leaving the cities and going big with more square footage. According to the 2021 Coldwell Banker Survey, more square footage was the number one amenity buyers wanted in 2021. Demand for homes over $1m jumped 245% nationally. One of the largest surges in luxury homes is located in San Diego, CA where demand for homes over $5 million jumped an amazing 140.2% (attached) The next large wave of millennial buyers are now aging into their prime buying years, followed by a smaller wave (Figure 2b). The current demand is from the Baby Boomers' adult children as some are just moving out of their parents' homes (finally at 30!). This millennial group now have good incomes savings, and their family assisting in contributing to the down payment. Additionally, millennials have the lowest debt to income in 40 years (Figure 2) and a contributor to the Goldman Sachs Housing Crash Index(See Figure 6) .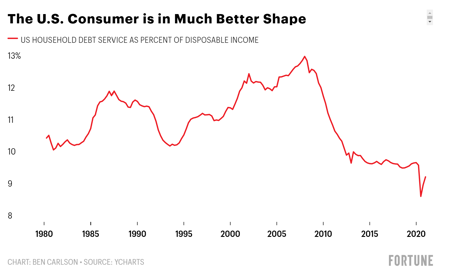 Figure 2a
The saving rate was at 13.7% of their income in 2020 compared to just 3% in 2007. Now this could be a problem if the US consumer does not spend as we saw in Japan in the 1980's but that has never been the case as the US consumer generally spends consistently. The increase in the amount of money in US savings accounts swelled to $2 trillion. This is in addition to the $2 trillion coming into the economy from the recent stimulus package. Even today, during this housing shortage, Housing Formations of 1.3m lag New Home starts of 1.1m over the last year (Figure 2c). Formations are expected to average 1.3m and increase from 7.3m in the last decade to 8.5m in 2020-2030, fueling future demand. At the current rate, we now need 3-4 years of accelerated new home starts just to catch up with the group of aging Millennials increasing new home formations (Blue Line Chart 2b & 2c).
Figure 2b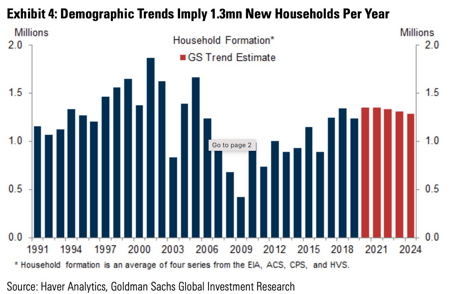 Figure 2c
Large banks have additional capital to lend as they reverse the billions in loan loss reserves for a housing crisis that did not happen. Also, with mortgage rates rising, there is a better financial incentive to lend as loans are more profitable as rates rise (increased NIM). As rates rise and as buyers overcome lending standards many cash home buyers are getting funds from securitized non real estate loans (secured by cash, stocks and bonds) with an interest rate of 2.5% to buy homes for cash. While there is concern that rising fixed 30 year rates will slow down the buyer, there is relief with the 5/1 adjustable loans. You can still get a 5/1 which is fixed for 5 years at 3%, which will still make buying affordable even if 30 year fixed rates go up to 5%. Further expansion in more available financing is slowly becoming more flexible. For example, there is now more financing for buyers with credit scores below 700, more financing based on assets rather than income, and underwriters allow house flipper financing.
Replacement/Reproduction Costs
Replacement/Reproduction Costs are rising as government regulation and permit processes make it more expensive buying land and more expensive to build. Inflation is hitting wages as builders cannot find enough workers, forcing builders to now pay 40% more than in 2019.
"Lumber is 100% higher than last year causing
an additional $25,000 - $35,000

"
Steel rebar prices have increased 64% since the end of Q1 2020. Copper prices have increased 68% since the end of Q1 2020. North American lumber prices have increased 100% since the end of Q1 2020 causing an additional $25,000-$35,000 on a 2000 to 3000 square foot home. As replacement costs rise, lack of land, cost of land, and labor prices increase, home prices will rise on new and existing homes.

What we are seeing is costs increase on the regulatory level as well, which increases the replacement costs of housing units. A recent study from the NAHB found that regulations imposed by all levels of government on new homes account for $93,870, or 23.8%, of the current average sales price ($397,300). This increases costs and pushes developers to build more expensive homes and less starter homes. Regulatory costs can be absorbed easier on a more expensive property.
Affordability and Multiple of Income
Housing affordability is indicated using three(3) key metrics, home prices, rates, and wages put into a single number. Although it dipped recently it is still above the 30-year average as family incomes rose 16.9%. To put the power of income into perspective, there only needs to be a 2.4% rise in income to equal a 12% rise in housing prices if rates stay the same. In fact, with rising incomes, the NAR Affordability index hit 173 last month, which is a higher reading since records began in 1971. While all real estate is local, NAR states The Northeast gained 6.2%, and the West rose 4.3%. The South increased 2.2%, and the Midwest increased 0.4%. On a national level every housing downturn since 1971 happened when affordability was below 120.

A second indicator called Income to Rent, shows in 2020 the market is 15% overvalued, but still below the 2007 bubble peak (See Figure 4 below). Incomes are rising with average hourly earnings rose 3.6% in June, above the trend before the pandemic showing a trend of increased affordability.

A third indicator called price to rent ratio shows we are better than 2007. The graph below shows we are elevated on a price to rent ratio (See Figure 5 below). The elevated level may be at a transitory high because of the eviction moratorium and renters leaving cities to buy. These two events are keeping rents low and lagging in the short term. The eviction moratorium put a temporary price freeze on all rents for a year. As these expire this month we should see rents going back to market price. The rent multiple was turbo charged (high price in relation to rent) last spring when people reacting to the pandemic moved from large cities (NY, San Francisco, Chicago) causing a temporary drop in rents in major cities while increasing prices in the suburbs.
Multiple of Income and Rents
The drop in large city rents while home prices shot up attributed to the temporary price to rents dispersion. The median national rent climbed 9.2% in the first half of 2021 and prices were up 2.3% in June alone, according to Apartment List. While part of the increase reflects a bounce-back in prices that dropped earlier in the pandemic, the real-estate firm says rents are now higher than if they had stayed on their pre-Covid track. Boise City, Idaho, and Riverside rents have risen more than 10% year-over-year. Surveys by the New York Fed and Fannie Mae suggest renters are braced for further hikes of 7% to 10% in the coming year. This is due to expiring moratorium, expiring leases and rental inventory decreases. If mortgage rates stay down, and rental inventory continues to decrease causing rents to increase over the next 1-2 years, home purchases will become more favorable over rents going into 2022. This is reinforced by Goldman Sachs prediction of low probability of a crash in next two years (Figure 6)
Rental occupancy nationally through Q4 was at 96% (See Figure 3) and according to American Homes 4 Rent, the occupancy nationally was at 98% through March. ATTOM's 2020 Single-Family Rental Market report reveals that the annual gross rental yield (annual rent income divided by the average purchase price of single-family homes) is projected at 8% for 2021, 8.4% for 2020, which is down slightly from the 8.6% average of 2019. As current leases expire, rents will go up. To afford higher rent payments, more people are giving up independence to afford more space. There has been a 35% increase in friends, parents, children, siblings and grandparents renting together. Approximately 15% of people who rented or bought homes between April and June of last year planned to have multiple generations living there per WSJ and NAR. That is up from 11% of those who bought between July 2019 and March 2020, and the highest level in survey data going back to mid-2012. To afford the higher rent on larger homes Millennials are renting with friends and GenXers are creating multi-gen households by putting in garage apartments and backyard houses for elderly parents.
Figure 3
Figure 4
Figure 5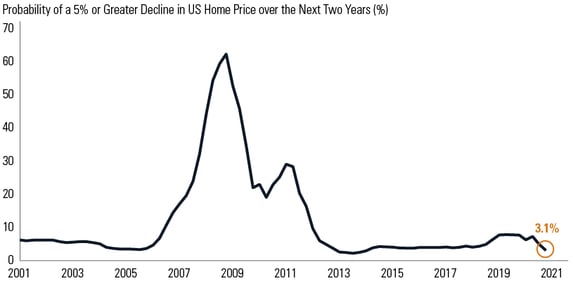 Figure 6
The Bottom Line
The bottom line is to watch the Affordability, Multiples of Rent/Income, Supply and Demand. If the NAR Affordability Index drops below 120 nationally or rents and income do not rise, then we see price growth slowing and inventories rising. When housing supply (Inventory) starts to increase, look for the spike similar to what we saw in late 2006/2007 (Figure 1b).
Look for changes around the following:

1. Affordability and Multiples of rent/income getting closer to 2006 highs. Look for rental price increases and whether incomes increase.
2. Look for rental price increases as current leases expire and the moratorium expires in this summer.
3. An inventory increase from vaccinated sellers and baby boomers more comfortable listing homes and allowing potential buyers in their home.
4. The move away from big cities should slow as the drop in rents are bringing people back, at the same time companies are now requiring workers to return to office in late summer. The Hybrid (home and office) worker will continue with the trend toward remote working, online shopping and home entertainment continuing.
5. Homebuilders seeing these 2021 trends will react with new home starts as they respond to low inventories and lower lumber costs.
6. Watch closely for the potential pivot to excess supply spike in 2-3 years as we always overshoot in both directions.
Watch demand led by the following:

1. Demand from older Millennials will be favorable for home selling for the next few years as seen in Figure 2 on page 9. Demand from the 30-40 generation of buyers is much stronger than the future supply coming from the 56-75 year old baby boomers downsizing or moving into retirement communities.
2. Watch mortgage rates as they are on their way up. Also remember the very powerful FOMO (Fear Of Missing Out) emotion as rates rise. When rates first start increasing past 4%, buyers will want to get on the housing train before they potentially miss the train and no longer qualify.


Sources
This is Not the 2007 Housing Bubble" The Retirement Group, 25 April. 2021, https://theretirementgroup.com/
Ackerman, Andrew. "Consumer Agency Seeks to Restrict Foreclosures Through 2021 - WSJ." WSJ, The Wall Street Journal, 5 Apr. 2021, https://www.wsj.com/articles/consumer-agency-seeks-to-restrict-foreclosures-through-2021-11617651357?mod=article_inline.(Ackerman)
New Home LSI: New Home Replacement Lots Are Getting Harder to Find | Zonda." Zonda, https://www.facebook.com/meyersresearchllc/, 17 Feb. 2021, https://zondahome.com/new-home-lsi-new-home-replacement-lots-are-getting-harder-to-find/
"February 2021 Report." Black Knight, Mortgage Monitor, Feb. 2021, https://www.blackknightinc.com/wp-content/uploads/2021/04/BKI_MM_Feb2021_Report.pdf.
Statista: "Number of homes in the United States as of September 2020, by type" Statista, 6 Nov. 2020, https://www.statista.com/statistics/1042111/single-family-vs-multifamily-homes-usa/.
Balint, Nadia. "Single-Family Rentals Increased Faster than Apartments in 22 of 30 Big Cities, Led by Phoenix - RENTCafé Rental Blog." RENTCafé Rental Blog, 12 Apr. 2018, https://www.rentcafe.com/blog/rental-market/real-estate-news/single-family-homes-rent-increased-faster-than-apartments/.
Dezember, Ryan. "If You Sell a House These Days, the Buyer Might Be a Pension Fund - WSJ." WSJ, The Wall Street Journal, 4 Apr. 2021, https://www.wsj.com/articles/if-you-sell-a-house-these-days-the-buyer-might-be-a-pension-fund-11617544801?mod=article_inline.
Mitchell, Olivia S., et al. Financial Decision Making and Retirement Security in an Aging World. Oxford University Press, 2017.
San Diego Real Estate Statistics | SDAR." San Diego Association of REALTORS® | SDAR, https://www.sdar.com/fast-stats.html. Accessed 26 Apr. 2021.
Son, Hugh. "Jamie Dimon Says U.S. Consumers Are 'coiled, Ready to Go' with $2 Trillion More in Checking Accounts." CNBC, CNBC, 14 Apr. 2021,https://www.cnbc.com/2021/04/14/jamie-dimon-says-us-consumers-are-coiled-ready-to-go-with-2-trillion-more-in-checking-accounts.html.
March Data: Rents Grow Faster for the First Time in Eight Months." Realtor.Com Economic Research, 13 Apr. 2021, https://www.realtor.com/research/march-2021-rent/
ATTOM Data Solutions Releases Best Counties for Buying Single Family Rentals in 2020 | ATTOM." ATTOM, https://www.facebook.com/attomdata, 12 Mar. 2020, https://www.attomdata.com/news/market-trends/single-family-rental/attom-data-solutions-q1-2020-single-family-rental-market-report/.
Friedman, Nicole, and Ben Eisen. "Buying a Home in the Pandemic? Family Members Team Up on Bids - WSJ." WSJ, The Wall Street Journal, 20 Mar. 2021, https://www.wsj.com/articles/buying-a-home-in-the-pandemic-family-members-team-up-on-bids-11616232600.
McLaughlin, Katy. "Covid-19 Is Giving the Multigenerational Home Business a Big Boost - WSJ." WSJ, The Wall Street Journal, 12 Nov. 2020, https://www.wsj.com/articles/multigenerational-living-covid-11605196694?mod=article_inline.
Coldwell Banker Global Luxury Report : 2021 Global Luxury Marketing Insights by The Report Group - Issuu." Accessed 26 Apr. 2021.
Olick, Diana. "Home prices surged in April at a 'truly extraordinary' rate, S&P Case-Shriller says." CNBC, CNBC, 29 June 2021, https://www.cnbc.com/2021/06/29/home-price-gains-in-april-truly-extraordinary-sp-case-shiller-says.html
U.S. Census Bureau, "Monthly New Residential Construction, May 2021." U.S. Census Bureau, 16 June 2021, https://www.census.gov/construction/nrc/pdf/newresconst.pdf
Fields, Samantha. "U.S. housing market short 6.8 million homes, report says." Market Place, 16 June 2021, https://www.marketplace.org/2021/06/16/u-s-housing-market-short-6-8-million-homes-report-says/
Andrews, Jeff. "Zumper National Rent Report." Zumper. 30 June 2021, https://www.zumper.com/blog/rental-price-data/
Santarelli, Marco. "California Real Estate Market Prices Hit Record High in May 2021." Norda Real Estate Investments, 20 June 2021, https://www.noradarealestate.com/blog/california-housing-market/
Disclosure: Securities offered through FSC Securities Corporation (FSC) member FINRA/SIPC. Investment advisory services offered through The Retirement Group, LLC. FSC is separately owned and other entities and/or marketing names, products or services referenced here are independent of FSC. Office of Supervisory Jurisdiction: 5414 Oberlin Dr #220, San Diego CA 92121