Many employees who are waiting to commence their pension lump-sums, are now seeing a significant decrease in their value. When these interest rates move up or down, your lump sum amount will move in an inverse direction, so if interest rates increase, your lump sum amount will decrease and vice versa. Through the pandemic, interest rates dropped dramatically which greatly increased many lump sum payments. However, since then this trend has shifted, as interest rates have been increasing rapidly, causing a large reduction in pension lump-sum values.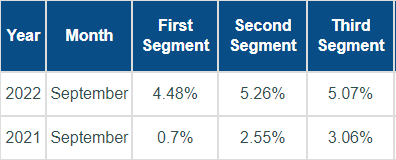 Large increases in interest rates are important if you decide to take the lump-sum option since the calculation for your lump-sum is based on interest rates and your age. Your pension will be calculated based on your last date of employment and benefits start date.
How do Rates Affect Your Pension?
Pension pricing is based on interest calculations, which means an adjustment in your retirement date may lead to avoiding a serious financial hit, due to avoiding times with high-interest rates.
Everything else held equal, a higher interest rate will produce a lower lump sum. The exact changes depend on your specific age, but on average a 1% change in rates can equate to an 8% to 12% change in lump sums. On average, a 1% change could increase or decrease your pension lump sum by roughly 10%.
It's important to note that you don't have to commence your pension immediately after you retire. If you wish to delay your commencement you have the ability to defer it until a later date.
Given the current interest rate environment, we highly suggest employees discuss their options with The Retirement Group and allow us to monitor the rates and keep you up to date on the monthly changes. We can provide a complimentary cash flow analysis to show you how various retirement dates may play out. It is important to remember that every situation is unique and that by getting a cash flow analysis you'll be able to compare different types of pensions and find the best fit for your situation.
This material was prepared by Broadridge Investor Communication Solutions, Inc., and does not necessarily represent the views of The Retirement Group or FSC Financial Corp. This information should not be construed as investment advice. Neither the named Representatives nor Broker/Dealer gives tax or legal advice. All information is believed to be from reliable sources; however, we make no representation as to its completeness or accuracy. The publisher is not engaged in rendering legal, accounting or other professional services. If other expert assistance is needed, the reader is advised to engage the services of a competent professional. Please consult your Financial Advisor for further information or call 800-900-5867.

The Retirement Group is not affiliated with nor endorsed by your company. We are an independent financial advisory group that focuses on transition planning and lump sum distribution. Neither The Retirement Group or FSC Securities provide tax or legal advice. Please call our office at 800-900-5867 if you have additional questions or need help in the retirement planning process.

The Retirement Group is a Registered Investment Advisor not affiliated with FSC Securities and may be reached at www.theretirementgroup.com.
Tags: Interest rates, Inflation, Economy