By now you're likely being inundated with updates on the procedures companies are taking to keep you and your loved ones safe during the coronavirus (COVID-19) outbreak, as well as notifications from businesses that are closing their doors for the time being. This type of action and communication, while inconvenient, is crucial for everyone's health, safety and overall peace of mind.

The evalutation of this novel pandemic remains a very fluid situation. Data from other countries and even from around the United States is constantly being reported and analyzed to determine best practices for the areas that have yet to be hit as hard. The good news is that we're learning more every day about how to stay safe, and here are a few of the best tips we've found:


Pay close attention to travel restrictions. The U.S. Centers for Disease Control and Prevention (CDC) is constantly monitoring the global pandemic situation. Visit their website for travel restrictions before booking any travel reservations.
Stay inside, avoid gatherings and socially distance when you can. The incubation period for this particular virus can be upwards of two weeks, so even the people around you who seem healthy may actually be infected. So keep your contact with others to a minimum and keep six feet of distance between you and strangers in areas like grocery stores, doctors' offices, and pharmacies.


Know who's at higher risk and help them. There are groups of people who may be at a higher risk for serious medical complications should they get the coronavirus. This webpage on the CDC website explains what you can do to help.


Wash, wash, wash your hands with soap and water. Sounds simple, and it is! And as long as you do it frequently and thoroughly, it always works. Wash hands for at least 20 seconds, and the fragile outer membrane protecting the virus will fall apart. When soap and water aren't readily available, hand sanitizer is the next best option. Keep some in your car and use it after pumping gas, shopping and after visiting drive-throughs.


Avoid touching your face. Did you know that you can contract coronavirus from touching your nose, mouth and even your eyes with germy fingers? As hard as it may be to keep your hands away from your face, try your best.


Avoid people who may be sick. While the most common symptoms include fever, shortness of breath and a cough, this virus seems to be affecting people differently with a range of other symptoms as well. So instead of simply staying away from people with the most common symptoms, keep your distance from others in general.


Stay home if you can, and especially if you're sick. You can't spread the virus to others if you stay home, so that's the safest place for you and everyone else.


Clean and disinfect home and work surfaces frequently. Virus particles can be left by carriers of the disease on everything from phones and keyboards to light switches and refrigerator handles. Make sure you clean all common surfaces once a day or more.


Consider wearing a face mask. Tiny virus particles are released into the air when a person coughs or sneezes. So if you have those symptoms, wearing a face mask can protect others from getting sick. If you're healthy, practice the other tips and save the masks for healthcare workers who are being exposed every day.


Stock up on cold and flu meds. With the shortages we're seeing around the country, it's a good idea to stock up on the over-the-counter cold and flu medicines, especially those that contain Zinc. Since most people who have the virus in the US can recover at home, you'll want to have some treatment options on hand.
If you need more detailed information on the coronavirus, the American Red Cross has updated information to help answer your questions.
Securities offered through FSC Securities Corporation, member FINRA/SIPC and investment advisory services offered through The Retirement Group, LLC, a registered investment advisor not affiliated with FSC Securities Corporation. Although FSC is a signatory to the Broker Protocol, TRG is not. The removal of PII from FSC under the Broker Protocol is a violation of the Privacy Policy. Representatives are securities registered and are able to service clients in the following states: ALABAMA, ARIZONA, ARKANSAS, CALIFORNIA, COLORADO, FLORIDA, GEORGIA, ILLINOIS, INDIANA, KANSAS, MASSACHUSETTS, MICHIGAN, MISSISSIPPI, MISSOURI, NEVADA, NEW HAMPSHIRE, NEW JERSEY, NEW YORK, NORTH CAROLINA, OHIO, OKLAHOMA, OREGON, PENNSYLVANIA, SOUTH CAROLINA, TEXAS, TENNESSEE, WASHINGTON, WISCONSIN.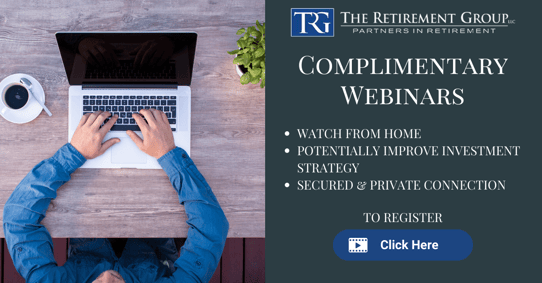 Tags: Financial Planning, Lump Sum, Pension, Retirement Planning