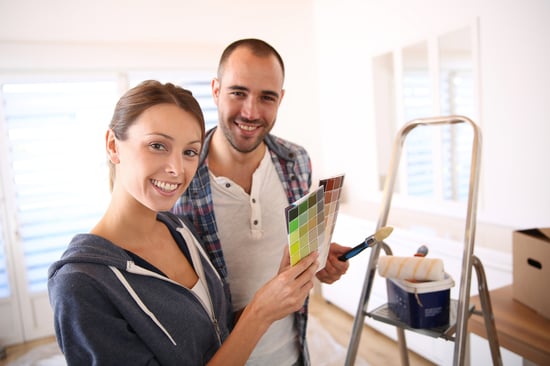 If you are like most homeowners, you love selecting the fixtures, fabrics, and paint colors of your home improvement project. But there is one very important item that you may overlook—making certain you are properly insured.
Why Proper Insurance Matters
You may need to review your insurance before beginning any home improvement project since it can expose you to additional financial risks.
If you choose to act as your own general contractor (in other words, you organize and order supplies while hiring sub-contractors to do the work), you may be opening up yourself to additional liability (such as an injury to a worker or third party) that may not be fully covered by your current homeowners insurance policy.¹
Whether it's an extra room or an updated bathroom, many home improvement projects will increase the value of your home. However, too many homeowners fail to review the policy's replacement value limits, which may no longer be high enough to cover any losses that occur after your home improvement.
Obtaining additional coverage shouldn't wait until you've completed the remodeling. After all, at any point in the process, you will have supplies and completed work that may not be covered under your existing policy.
To ensure that you are properly covered, meet with your insurance agent about your projects and discuss with him or her any need for modifying your current insurance coverage.
The information in this material is not intended as legal advice. Please consult legal or insurance professionals for specific information regarding your individual situation.
This material was prepared by Broadridge Investor Communication Solutions, Inc., and does not necessarily represent the views of The Retirement Group or FSC Financial Corp. This information should not be construed as investment advice. Neither the named Representatives nor Broker/Dealer gives tax or legal advice. All information is believed to be from reliable sources; however, we make no representation as to its completeness or accuracy. The publisher is not engaged in rendering legal, accounting or other professional services. If other expert assistance is needed, the reader is advised to engage the services of a competent professional. Please consult your Financial Advisor for further information or call 800-900-5867.
The Retirement Group is not affiliated with nor endorsed by fidelity.com, netbenefits.fidelity.com, hewitt.com, resources.hewitt.com, access.att.com, ING Retirement, AT&T, Qwest, Chevron, Hughes, Northrop Grumman, Raytheon, ExxonMobil, Glaxosmithkline, Merck, Pfizer, Verizon, Bank of America, Alcatel-Lucent or by your employer. We are an independent financial advisory group that specializes in transition planning and lump sum distribution. Please call our office at 800-900-5867 if you have additional questions or need help in the retirement planning process.
The Retirement Group is a Registered Investment Advisor not affiliated with FSC Securities and may be reached at www.theretirementgroup.com.
Tags: Financial Planning, Lump Sum, Pension, Retirement Planning