A life insurance policy illustration is a text-and-graphics presentation of how a life insurance policy will perform at a selected interest rate, with an assumed number of predetermined premium payments and a "current" and "guaranteed" cost of insurance and expenses. A life insurance policy illustration is not a legal document--legal obligations are contained in the policy itself.
What does the illustration show?
A policy illustration shows items such as policy premiums, death benefits, cash values, and other information that can affect your cost of buying insurance. Some of the figures in the illustration are guaranteed, while others are projections and may depend on the future financial results of the insurance company. The illustration shows how your policy would perform in the future under a set of assumptions.
Guaranteed items
The policy illustration contains some figures that are guaranteed. The insurance company will honor these figures regardless of the policy's future financial experience. What is guaranteed will depend on the type of life insurance policy. A whole life insurance policy will guarantee the premium, cash value, and death benefit. A universal life insurance policy will guarantee a minimum interest credit on the cash value. A variable universal life insurance policy will guarantee the death benefit, provided a maximum premium is paid. In all cases, the company will guarantee a maximum that it will charge for expenses and mortality charges. (Keep in mind that guarantees are based on the claims-paying ability of the issuing insurance company.)
Nonguaranteed items
The policy's performance projections are based on the insurance company's assumptions about future performance many years into the future. Like any other assumption, actual results will be more or less favorable, and the longer the time period being projected, the greater the likelihood of variance from the predicted values. The policy pricing factors that contain elements of uncertainty again depend on the type of life insurance policy. They include future dividend rates on whole life policies that are determined by the performance results of the company's investment portfolio, the interest credited to a universal life policy cash value, and performance of the pool of subaccounts available to choose from in a variable life insurance policy. In all cases, the company's "current" future expenses and mortality costs will be subject to change.
Note: Variable life insurance policies are offered by prospectus, which you can obtain from your financial professional or the insurance company issuing the policy. The prospectus contains detailed information about investment objectives, risks, charges, and expenses. You should read the prospectus and consider this information carefully before purchasing a variable life insurance policy.
This material was prepared by Broadridge Investor Communication Solutions, Inc., and does not necessarily represent the views of The Retirement Group or FSC Financial Corp. This information should not be construed as investment advice. Neither the named Representatives nor Broker/Dealer gives tax or legal advice. All information is believed to be from reliable sources; however, we make no representation as to its completeness or accuracy. The publisher is not engaged in rendering legal, accounting or other professional services. If other expert assistance is needed, the reader is advised to engage the services of a competent professional. Please consult your Financial Advisor for further information or call 800-900-5867.

The Retirement Group is not affiliated with nor endorsed by fidelity.com, netbenefits.fidelity.com, hewitt.com, resources.hewitt.com, access.att.com, ING Retirement, AT&T, Qwest, Chevron, Hughes, Northrop Grumman, Raytheon, ExxonMobil, Glaxosmithkline, Merck, Pfizer, Verizon, Bank of America, Alcatel-Lucent or by your employer. We are an independent financial advisory group that specializes in transition planning and lump sum distribution. Please call our office at 800-900-5867 if you have additional questions or need help in the retirement planning process.

The Retirement Group is a Registered Investment Advisor not affiliated with FSC Securities and may be reached at www.theretirementgroup.com.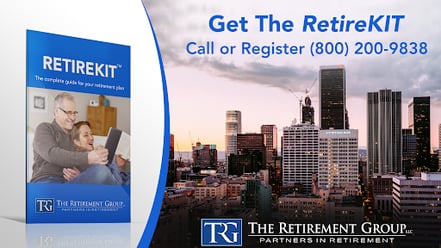 Tags: Financial Planning, Insurance, Lump Sum, Pension, Retirement Planning