If it's been a while since you've shopped around for health insurance, you may find that things have changed since the last time you tackled this chore. Not long ago, you could go to any doctor or hospital, and you and your insurance company would each pay part of the bill. Now, most health insurance policies are some form of managed care, with controls to contain costs.
Today, more than half of insured Americans are covered by a managed care plan--a plan that gives financial incentives to encourage you to use doctors who are part of the plan network. The better you understand managed care, the better you will be able to select the plan that best meets your needs and budget.
How do managed care plans work?
Insurance companies negotiate discounts with medical providers who sign up to be part of the managed care plan's network. In exchange, the providers get an instant pool of patients. The plans generally limit your out-of-pocket expenses for covered care. They usually require (or encourage) that you seek care from a specific list of contracting doctors, hospitals, and other providers. If you go out of the plan's network for medical treatment, you have to pay higher out-of-pocket expenses.
The goal of managed care is to provide health care that is:
Cost effective
In the best setting
Of the highest quality
Medically necessary
Offered by the most appropriate provider
To increase the overall quality of care and reduce costs, many managed care plans require that you see a primary care doctor (family practitioner, internist, or pediatrician) before visiting a specialist. Your primary care doctor has the responsibility of knowing your complete medical history, making the initial diagnosis, and advising on further treatment.
Health maintenance organizations
Your primary care doctor is the gatekeeper who coordinates your health care and refers you to specialists
You must use specific health-care providers and facilities to be fully covered
You can go outside the network only if prior approval is given or for an emergency
Nonemergency and elective admissions to the hospital require prior approval
You can go for emergency care wherever and whenever you determine you need it, without prior approval
Some treatments and procedures require a second opinion
Preventive care programs are available to keep you well
Doctors are paid based on a capped or fixed-fee arrangement rather than payment for services given
You do not have to file claim forms with the insurance company
Screening tests for cancer and other chronic diseases are usually covered
Health maintenance organizations (HMOs) are considered the most restrictive because they offer you the least amount of choices. However, they tend to have both the lowest out-of-pocket costs and the least paperwork, and they promote general wellness programs to keep you healthy.
Preferred provider organizations
Most preferred provider organizations (PPOs) do not require a referral from your primary care doctor to visit a specialist
You will have higher out-of-pocket costs if you use providers outside the network
Prior approval is required for hospitalization (except for an emergency) and some outpatient services
Some treatments and procedures require a second opinion
Emergency care doesn't require approval if you determine you need it
Preventive care is not always covered
Your doctors and hospitals are paid for services provided
Your medical provider files the claim forms
PPOs are less restrictive than HMOs in your choice of health-care provider, but your out-of-pocket costs may be higher. The coverage provided for treatment and care is similar to an HMO.
Point of service plans
There are financial incentives, such as lower out-of-pocket costs, to use network providers
You can receive care from providers outside the network without prior approval
If you go outside the network, you'll be responsible for filing insurance claims
If your doctor refers you out of the network, the plan pays all or most of the bill
Premiums are higher than those for HMOs or PPOs
Point of service (POS) plans are less restrictive than HMOs. They combine some features of HMOs and PPOs and have the highest out-of-pocket costs. So even though POS plans allow greater choice at the time the service is delivered, you'll pay more for your health care.
How do I select the plan that's right for me?
There is no perfect plan--you'll have to do some give-and-take. Some questions to consider:
Do your current doctors participate in any plans?
Does it matter that you might be limited to your choice of doctors and hospitals?
What level of services do you really need?
Would getting referrals to specialists be a problem?
How much can you afford to spend?
Are you willing to file insurance claim forms?
What is the plan's rating on quality of care and member satisfaction?
What to ask before you buy
After you decide what benefits are important, you will be in a better position to compare individual plans. Plans differ with regard to out-of-pocket costs, services provided, and how easy it is to get those services. Although no plan will pay for everything, some plans cover more than others.
Ask to see a network directory. Are your current doctors in it?
Are you willing to change doctors if necessary?
Are the doctors close to you accepting new patients?
Does the plan use a local hospital?
Who decides if you can go to the hospital?
What is the plan's policy on pre-existing conditions?
Is there a maximum lifetime benefit?
Are preventive care services offered?
What is the prescription drug policy?
Are there limits on medical tests?
What are the mental health benefits?
Does the plan pay for any special services you need?
How easily can you change primary care doctors?
Are therapies such as acupuncture or chiropractic services covered?
How easily can you get help over the telephone?
Whatever plan you choose, you will become a partner with your doctor and insurance company. Keep in mind that managed care plans make more money when they keep you healthy and out of hospitals, reduce the amount of care you receive, and stay within the budget set for each member's total medical care. It will be your responsibility to schedule physical exams and take advantage of other preventive care programs. Make sure there is a good match between what you think you need and what is provided.
This material was prepared by Broadridge Investor Communication Solutions, Inc., and does not necessarily represent the views of The Retirement Group or FSC Financial Corp. This information should not be construed as investment advice. Neither the named Representatives nor Broker/Dealer gives tax or legal advice. All information is believed to be from reliable sources; however, we make no representation as to its completeness or accuracy. The publisher is not engaged in rendering legal, accounting or other professional services. If other expert assistance is needed, the reader is advised to engage the services of a competent professional. Please consult your Financial Advisor for further information or call 800-900-5867.The Retirement Group is not affiliated with nor endorsed by fidelity.com, netbenefits.fidelity.com, hewitt.com, resources.hewitt.com, access.att.com, ING Retirement, AT&T, Qwest, Chevron, Hughes, Northrop Grumman, Raytheon, ExxonMobil, Glaxosmithkline, Merck, Pfizer, Verizon, Bank of America, Alcatel-Lucent or by your employer. We are an independent financial advisory group that specializes in transition planning and lump sum distribution. Please call our office at 800-900-5867 if you have additional questions or need help in the retirement planning process.The Retirement Group is a Registered Investment Advisor not affiliated with FSC Securities and may be reached at www.theretirementgroup.com.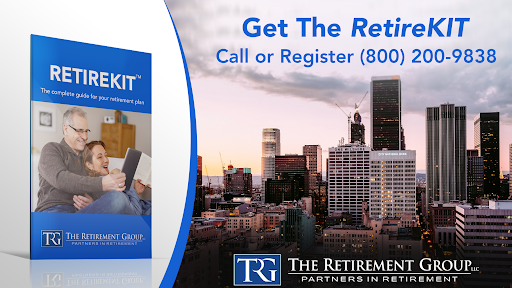 Tags: Financial Planning, Lump Sum, Pension, Retirement Planning