What Is It?
The Uniform Transfers to Minors Act (UTMA) is a law enacted in most states authorizing parents or other designated custodians to manage investments for the benefit of a minor child. Every state has some form of this law on its books. An older form of this law, the Uniform Gifts to Minors Act (UGMA), unlike UTMA, does not authorize investments in specific types of property; otherwise, it's essentially the same as UTMA.
Typically, an UTMA investment is held in an account established at a financial institution. The UTMA account is the child's property. Each account can have only one child-owner. Any money placed in an UTMA account is an irrevocable gift to the child. Transfers to an UTMA account qualify for the $15,000 (in 2020) annual gift tax exclusion even though the minor's possession of the account property is delayed until he or she reaches the age of 18, 21, or 25 (depending on the state).
Tip: Parents can gift up to $30,000 (in 2020) per child federal gift tax free if they elect to split the gift.
No special legal forms or trust documents are required to establish an UTMA account. Almost all banks and financial institutions will help you set up an UTMA account for your child at no charge. The account will be named "(Your Name), as custodian for (Minor's Name) under the (your state) Uniform Transfers to Minors Act," and your child's Social Security number will be used.
An account can be set up by you (the child's parent), or by any adult. Once an account is established, anyone (e.g., grandparents) can make unlimited contributions to it. Any adult or (almost any) financial institution can serve as custodian. The custodian must comply with the particular state's UTMA statute, which generally gives the custodian broad powers regarding investments, and does not subject the account to court supervision. This compares favorably with the alternative of court-appointed guardianship over a minor's property, which requires close judicial scrutiny.
Caution: Property in an UTMA account which you've established for your child will be included in your gross estate for federal estate tax purposes if you serve as custodian. If estate tax liability is likely, you may want to consider asking a responsible person (e.g. a close family member) to serve in your stead.
Advantages
May Minimize Federal Gift and Estate Tax
Gifts to an UTMA account reduce your gross estate for federal estate tax purposes, and gifts of up to $15,000 (in 2020) are federal gift tax free under the annual gift tax exclusion. Any future appreciation in the gifted property is also removed from your gross estate. Therefore UTMA accounts are well suited for growth investments and other property that is expected to significantly increase in value over the long term.
May Minimize Capital Gains Taxes
Another advantage of holding long-term, appreciating property in an UTMA account is that when the property is finally sold (e.g., to pay for college), any capital gain will be taxed at the minor's capital gains tax rate, which may be lower than the parents' rate.
Caution: The kiddie tax rules, discussed below, significantly limit the ability to benefit from a child's lower capital gains tax rate.
May Minimize Income Taxes
Significant income tax savings is possible with an UTMA account because children usually have little income and have the benefit of their own standard deduction. The tax savings are greater if the parent is in a high tax bracket.
However, be aware that special rules commonly referred to as the "kiddie tax" rules apply when a child has unearned income (for example, investment income). Children subject to the kiddie tax are generally taxed at the parents' tax rates on any unearned income over a certain amount. This amount is $2,200 (in 2020) (the first $1,100 (in 2020) is tax free and the next $1,100 (in 2020) is taxed at the child's rate). The kiddie tax rules apply to (1) those under age 18, (2) those age 18 whose earned income doesn't exceed one-half of their support, and (3) those ages 19 to 23 who are full-time students and whose earned income doesn't exceed one-half of their support.
Caution: When a parent's legal obligation to support his or her child is satisfied from funds in an UTMA account (or from any source, for that matter), those funds are taxed to the parent, not the child.
Tradeoffs
UTMA Account Is Irrevocable
A gift to an UTMA account is irrevocable; the money can't be taken back. The minor must be given full access to the account when he or she reaches the age prescribed by law (i.e., 18, 21), even if he or she is financially irresponsible.
Could Have Negative Impact on Eligibility for Financial Aid
Since an UTMA account is in the child's name, it is counted as his or her asset for the purpose of determining eligibility for college financial aid. This could result in a reduction in the amount of aid the child might otherwise receive.
This material was prepared by Broadridge Investor Communication Solutions, Inc., and does not necessarily represent the views of The Retirement Group or FSC Financial Corp. This information should not be construed as investment advice. Neither the named Representatives nor Broker/Dealer gives tax or legal advice. All information is believed to be from reliable sources; however, we make no representation as to its completeness or accuracy. The publisher is not engaged in rendering legal, accounting or other professional services. If other expert assistance is needed, the reader is advised to engage the services of a competent professional. Please consult your Financial Advisor for further information or call 800-900-5867.
The Retirement Group is not affiliated with nor endorsed by fidelity.com, netbenefits.fidelity.com, hewitt.com, resources.hewitt.com, access.att.com, ING Retirement, AT&T, Qwest, Chevron, Hughes, Northrop Grumman, Raytheon, ExxonMobil, Glaxosmithkline, Merck, Pfizer, Verizon, Bank of America, Alcatel-Lucent or by your employer. We are an independent financial advisory group that specializes in transition planning and lump sum distribution. Please call our office at 800-900-5867 if you have additional questions or need help in the retirement planning process.
The Retirement Group is a Registered Investment Advisor not affiliated with FSC Securities and may be reached at www.theretirementgroup.com.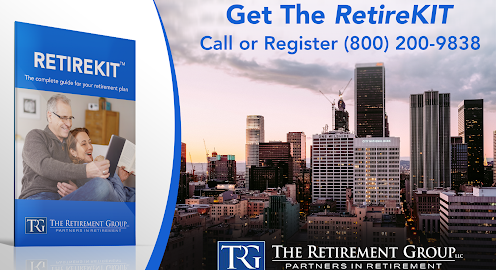 Tags: Financial Planning, Lump Sum, Pension, Retirement Planning