What Is a Title Examination?
Title is the right to own, possess, use, control, and dispose of property. When you buy a home, you are actually buying the seller's title to the home. Before the closing, an attorney or title company (normally hired by your mortgage lender) will usually conduct a title examination by searching public records. The purpose of a title examination is to discover any problems that might prevent you from getting clear title to the home. The title examiner will then issue a report that describes the property, along with any title defects, liens, or encumbrances discovered in the course of the title examination.
What Are Some Common Title Problems?
Most run-of-the-mill title problems can be cleared up before the closing. But in some cases, certain title problems can delay the closing. If a title problem is severe enough, you may decide not to purchase the home. A title problem can even result in your mortgage lender refusing to finance the purchase. Many different situations can affect a property's title. For example:
A home's seller claims to be single, but a title search reveals that the seller is married and owns the house with his or her spouse.
A title search reveals that the property is titled in a deceased individual's name, but there is no will on file to indicate how he or she disposed of it.
A home's sellers took out a home improvement loan, which they have since repaid. However, the lien was never removed from the title.
A home's sellers had a dispute with a contractor over the workmanship on some home renovations, and the sellers withheld final payment on the contract. The contractor filed a mechanic's lien on the property, which was never removed.
You are buying a home and a property survey discovers that the family room that the sellers added on a few years ago is partially situated on a neighbor's property.
What Is Title Insurance?
Title insurance protects you against title defects that were not discovered in the course of the initial title examination and that may not appear until after you've taken ownership of the property. A title insurance policy protects you and your heirs against title defects for as long as you own the property. The policy represents the title insurance company's responsibility to compensate you for any covered loss caused by a defect in the title or any lien or encumbrance that was not discovered in the title examination.
Title insurance companies usually offer two types of title insurance policies: standard and extended. Standard policies provide limited coverage, offering protection for certain off-record title problems (e.g., fraud), as well as those that could be uncovered during a search of public records (e.g., recorded mechanic's liens). Extended policies provide the same coverage as standard policies, as well as additional coverage for title problems that aren't found so easily, such as unrecorded liens and title defects that could only be uncovered during an inspection of the property.
You usually pay a one-time fee for title insurance, the price of which varies depending on the location of the home, its purchase price, and the type of title insurance coverage you select.
Tip: Most title insurance policies contain coverage exceptions, so it is important to understand exactly what is covered by the policy.
What About Lender's Title Insurance?
When you get a mortgage, most mortgage lenders require you to take out lender's title insurance, which protects the lender's interest in the property. Coverage on a lender's policy is limited to the amount of the loan and gradually decreases as the loan is paid off. Keep in mind that a lender's title insurance policy does not protect your full interest in the property. As a result, you should consider purchasing a separate owner's policy to protect your interest in case of title defects.
This material was prepared by Broadridge Investor Communication Solutions, Inc., and does not necessarily represent the views of The Retirement Group or FSC Financial Corp. This information should not be construed as investment advice. Neither the named Representatives nor Broker/Dealer gives tax or legal advice. All information is believed to be from reliable sources; however, we make no representation as to its completeness or accuracy. The publisher is not engaged in rendering legal, accounting or other professional services. If other expert assistance is needed, the reader is advised to engage the services of a competent professional. Please consult your Financial Advisor for further information or call 800-900-5867.
The Retirement Group is not affiliated with nor endorsed by fidelity.com, netbenefits.fidelity.com, hewitt.com, resources.hewitt.com, access.att.com, ING Retirement, AT&T, Qwest, Chevron, Hughes, Northrop Grumman, Raytheon, ExxonMobil, Glaxosmithkline, Merck, Pfizer, Verizon, Bank of America, Alcatel-Lucent or by your employer. We are an independent financial advisory group that specializes in transition planning and lump sum distribution. Please call our office at 800-900-5867 if you have additional questions or need help in the retirement planning process.
The Retirement Group is a Registered Investment Advisor not affiliated with FSC Securities and may be reached at www.theretirementgroup.com.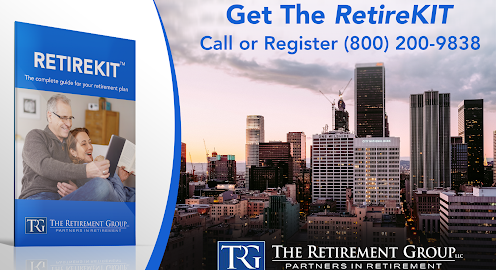 Tags: Financial Planning, Lump Sum, Pension, Retirement Planning