Tornadoes, hurricanes, and other windstorms can cause lots of damage to your home and its contents. But will insurance cover your losses if one of these storms strikes your home? The answer is that it depends.
It's probably standard coverage
There are several standard homeowners insurance policies or packages of coverage. Some of these packages provide broader coverage than others, but they all protect your home and its contents against certain perils (i.e., specific events that can damage your home and property). Fortunately, windstorms are one of the basic perils that all of the standard homeowners policies cover. This means you'll generally be compensated for your losses if a tornado, hurricane, or other windstorm causes damage to your home or the personal belongings inside it.
However, keep in mind that you'll be covered only up to the coverage limits you selected for your policy. You can often raise your coverage limits, though doing so will increase your premium. Any losses that exceed these limits will have to be paid out of your own funds. Also, before your insurer will begin to cover your losses, you'll have to pay whatever amount you chose for an out-of-pocket deductible. In some states, a separate deductible applies to wind and hail damage.
But there are always exceptions
Though you're probably covered for windstorm damage, it's possible that you may not be. One way this could happen is if your insurer decides that your home doesn't qualify for one of the standard homeowners packages. In this case, the company might only be able to offer you limited coverage for damage to your home due to a handful of very specific perils or losses. Windstorm damage may or may not be one of the covered perils. Even if it is, the coverage may extend only to your home itself and not to any of the personal property inside it.
It's also possible that windstorm damage may be excluded from standard homeowners insurance coverage in your area. Insurance companies may exclude this peril in certain states (or parts of certain states) that are especially prone to windstorms. If you live in a coastal region of Florida, for example, windstorm damage may be excluded from your homeowners coverage because of the high risk of hurricanes. Similarly, if you live in a part of the Midwest where tornadoes are common, don't be surprised if windstorm damage isn't covered under your policy.
The best way to find out if you're covered for windstorm damage is to read your policy and ask your insurance company or agent.
And there are always solutions
What if you want this protection, but it's not available under the policy you currently have? There are several options you can explore with the help of your agent. Ask your insurance company if you can add windstorm coverage to your existing policy by purchasing an endorsement (an optional coverage that gets attached to your policy). If so, weigh the cost of the endorsement against your need for it. Another option is to shop around--see if another company will sell you a homeowners policy that includes windstorm coverage and at what price.
The problem is that if you live in a high-risk area, you might not have much luck with any insurer. However, a number of states along the Atlantic and Gulf coasts currently administer windstorm insurance plans to pick up where regular homeowners policies leave off. If you live in one of these states, you may be able to buy a separate windstorm policy. Again, balance the price of this coverage against the possible benefit.
Windstorm coverage doesn't cover flood damage
Hurricanes and other windstorms are often accompanied by flooding. In many cases, flooding can cause far more damage to a home and other property than high winds. That's why it's important to realize that neither homeowners insurance nor a separate windstorm policy will cover flood damage. If you want this type of protection, you'll need to buy separate flood insurance. The National Flood Insurance Program offers flood insurance through the federal government and some private insurers.
This material was prepared by Broadridge Investor Communication Solutions, Inc., and does not necessarily represent the views of The Retirement Group or FSC Financial Corp. This information should not be construed as investment advice. Neither the named Representatives nor Broker/Dealer gives tax or legal advice. All information is believed to be from reliable sources; however, we make no representation as to its completeness or accuracy. The publisher is not engaged in rendering legal, accounting or other professional services. If other expert assistance is needed, the reader is advised to engage the services of a competent professional. Please consult your Financial Advisor for further information or call 800-900-5867.

The Retirement Group is not affiliated with nor endorsed by fidelity.com, netbenefits.fidelity.com, hewitt.com, resources.hewitt.com, access.att.com, ING Retirement, AT&T, Qwest, Chevron, Hughes, Northrop Grumman, Raytheon, ExxonMobil, Glaxosmithkline, Merck, Pfizer, Verizon, Bank of America, Alcatel-Lucent or by your employer. We are an independent financial advisory group that specializes in transition planning and lump sum distribution. Please call our office at 800-900-5867 if you have additional questions or need help in the retirement planning process.

The Retirement Group is a Registered Investment Advisor not affiliated with FSC Securities and may be reached at www.theretirementgroup.com.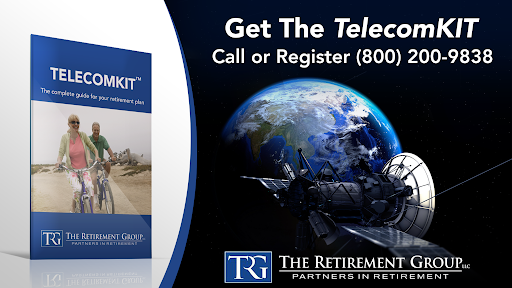 Tags: Financial Planning, Lump Sum, Pension, Retirement Planning